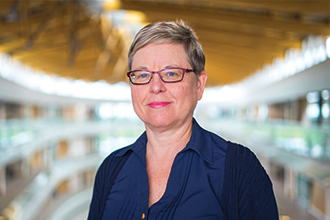 Irene Sheppard provides leadership for Abbotsford and Mission communities and Fraser Health Residential Care and Assisted Living Contract Services.
Irene Sheppard provides leadership and direction on strategies, planning/design, implementation and delivery of all assisted living and residential care contracted services in Fraser Health and specific Fraser Health operated services in the Abbotsford and Mission communities: home health (including home support), Primary Health Care and residential care services at The Residence in Mission (TRIM) and Worthington/Cottage.
She is the Fraser Health liaison for the Abbotsford and Mission communities including the Divisions of Family Practice and civic partnerships for healthy communities.
In addition, Irene leads the regional network of Fraser Health operated plus contracted residential care with respect to region-wide quality initiatives.
Irene has been with Fraser Health since 1999 and has held a number of clinical director planning and operational portfolios ranging from acute services to community-based services. She has been in the executive director role since April 2015.
Prior to 2015, Irene held operational responsibility for home health (professional services) delivery in Chilliwack, Abbotsford, Langley and Newton, plus the Home Health Day Programs for Older Adults (DPOA) across the region. She was the home health lead for the Integrated Health Networks (IHN) which is a precursor to the Fraser Health vision of a community-based health care system, and the planned transformation of home health. Shifting societal thinking and behaviours about how to age well and ensuring quality care for frail seniors are two topics that Irene is passionate about.
Prior to joining Fraser Health, Irene enjoyed success as a physical therapist and health care management consultant.
Irene holds a Master of Science in Health Planning and Administration from the University of British Columbia and a Bachelor of Science in Physical Therapy from Loma Linda University, CA.