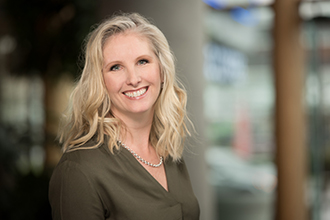 Jacqueline Per provides leadership and oversight as executive director of Patient Experience, and is our chief nursing and allied health officer.
Jacqueline brings 25 years of experience to her portfolio. Jacqueline's extensive background includes clinical nursing, program manager roles as well as expertise in workplace health and safety. Most recently Jacqueline held the role of director, Clinical Quality and Patient Safety as well as an interim role in 2015 as the executive director, Quality, Patient Safety, Infection Control and Community Engagement at Vancouver Coastal Health.
She is passionate in her commitment to placing the patient at the centre of our work and in partnering with employees/physicians/volunteers/students to create and support the structures that empower teams to deliver high quality care every day.
Jacqueline is a graduate of the Vancouver General Hospital School of Nursing and holds a Bachelor of Science in Nursing from the University of Victoria and a Masters of Science in Nursing from the University of British Columbia. She is member of the Canadian College of Health Leaders.