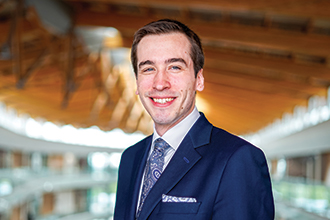 Markus Delves is a chartered accountant working in a private real estate development business, Quantum Properties, where he is the director of finance and investment.
The Quantum Properties Group of Companies has been developing and constructing condominiums and commercial office buildings in the Metro Vancouver region for the last 13 years. As director of finance, Delves is involved with the accounting and audit, financing, tax and legal aspects of the business.
Delves articled with PricewaterhouseCoopers LLP in Vancouver. After obtaining his designation, he transferred to PwC's London, UK office where he advised multinational corporations on their international taxation issues.
Delves is a lecturer at the Beedie School of Business at Simon Fraser University and an exam marker for the Chartered Accountant School of Business. He volunteers in his community via a number of charitable organizations, including as a board member of the Abbotsford Hospice Society. He previously served in the Royal Canadian Navy reserves where he retired as a lieutenant. Delves holds a Bachelor of Arts in Economics from Simon Fraser University and a diploma in Accounting from the University of British Columbia.