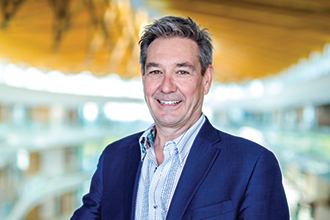 Philip Barker provides executive leadership to a portfolio of services focused on enabling change, transformation and on improving health service quality and system performance.
These services include the areas of Health Informatics, Clinical Solutions, eHealth, Technology Services and Integrated Analytics. He is also the executive customer liaison for the following Lower Mainland Consolidated Services: Laboratory Services, Medical Imaging, Biomedical Engineering, Health Information Management and Integrated Protection Services
Philip has 30 years of management and consulting experience in public and private sectors. At the national, provincial and health provider organization level, Philip has led health care improvement initiatives that capitalize on sound information management/technology investments, service redesign and technology enabled transformation.
He previously served in senior leadership roles with IBM Canada, LGS Management Consulting Group, Simon Fraser Health Region, Fraser-Burrard Hospital Society, Calgary District Hospital Group and Royal University Hospital Saskatoon.
Philip has a Master of Health Services Administration and a Bachelor of Science (Pharmacology) from the Faculty of Medicine and Public Health Services at the University of Alberta. He has earned the designation of Certified Health Executive (CHE) from the Canadian College of Health Leaders.