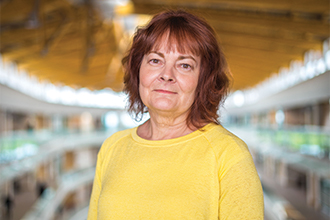 Rhonda Veldhoen provides executive director leadership and strategic oversight to Abbotsford Regional Hospital and Mission Memorial Hospital.
Rhonda's focus is to support excellent patient-centred care, provided by engaged health care providers in a supportive environment. She brings over 35 years of health care and management experience to her portfolio, most recently as the interim vice president, Community Hospitals and Programs and executive director, Delta and White Rock/South Surrey Health Services and Delta and Peace Arch Hospitals. Rhonda also co-leads the Trauma Network which promotes best trauma care for all patients in Fraser Health.
Prior to this, she was the program director for medicine at Delta, Peace Arch and Langley Memorial Hospitals. Rhonda had been the director lead for neurology, which included working with the Division of Neurology to enable best practices for stroke care. Rhonda was also a director at Mission Memorial and Abbotsford Regional Hospital for several years.
Rhonda obtained her Bachelor of Nursing through the University of Calgary and Master of Arts (Leadership and Quality) from San Diego State University.