Find medication safety information focused on long-acting insulins.
On behalf of Fraser Health's Medication Safety Shared Work Team, The Student Practice Team would like to remind students and faculty instructors in nursing and pharmacy programs about medication safety, with a focus on the following long-acting insulins:
Insulin glargine (LANTUS, BASAGLAR, and TOUJEO).
Insulin detemir (LEVEMIR) *Restricted to pediatrics as per formulary.*
Recent errors with long-acting insulin that have been reported include:
Wrong dose error
Insulin syringe was used to withdraw insulin from TOUJEO cartridge. For instance, a patient experienced hypoglycemia after receiving 3 times the dose because TOUJEO is 300 units/mL and standard insulin syringes area graduated for 100 units/mL.
Wrong drug error
LANTUS was administered instead of TOUJEO.
These insulin products are not interchangeable without a prescriber or pharmacist consult.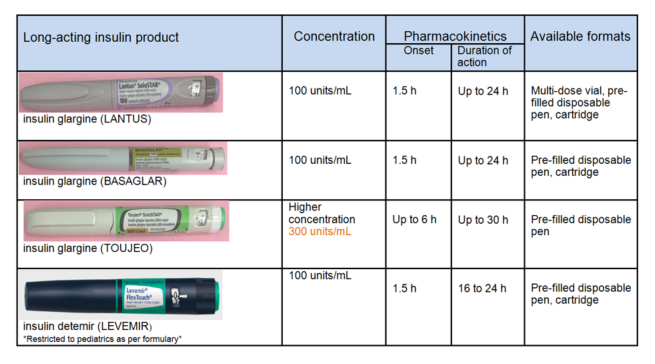 All students and faculty instructors are expected to:
Be aware of the different types of long-acting insulin products with different concentration, onset, and duration of action.
Not substitute one product over another without consulting the prescriber or pharmacist.
Use BD AutoShield Duo needles when administering insulin from a pen for nurse administration. Never use a syringe to draw insulin from an insulin cartridge or a pre-filled pen.
Label all pen devices with a patient specific label on the barrel of the insulin pen and never label on the cap.
How will this impact students and faculty instructors? 
Students and faculty instructors who are completing student placements in Fraser Health must consult with their clinical areas to determine what other practices and procedures must be followed to support this medication safety initiative.
Students and faculty instructors are expected to apply any necessary changes in their practice to ensure that patients, clients, and residents continue to receive safe and quality care.