Healthy Choice: Fraser Health and Save-On Foods Program. This program aims to increase the likelihood that customers will choose to purchase healthy food options in retail stores.
What is it?
Fraser Health and Save-On-Foods are partnering to launch a program aimed at nudging customers towards healthy options within a particular product line in the store.
Fraser Health and Save-On-Foods dietitians have worked closely together to identify food items to be labelled as a "Healthy Choice", using Canada's Food Guide recommendations. They selected five of the twelve salads in a recently launched new salad line to receive a "Healthy Choice" sticker.
The following recommendations from the new Canada's Food Guide Dietary Guidelines were considered in the selection of which salads would be identified as "Healthy Choice":

Eat plenty of vegetables and fruits, whole grain foods and protein foods.
Choose protein foods that come from plants more often.
Choose foods with healthy fats instead of saturated fat.
Limit highly processed foods. If you choose these foods, eat them less often and in small amounts.
Prepare meals and snacks using ingredients that have little to no added sodium, sugars or saturated fat

The pilot will involve trying different types/combinations of interventions in different stores and assessing impact. For example, in some stores we will be using product stickers only, in other stores we will be using product stickers and posters, and in one store we will be using product stickers, posters, and have program staff and a dietitian present to answer questions for select hours during the pilot.
Look to the posters and stickers below on products in participating stores: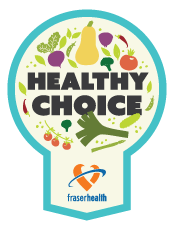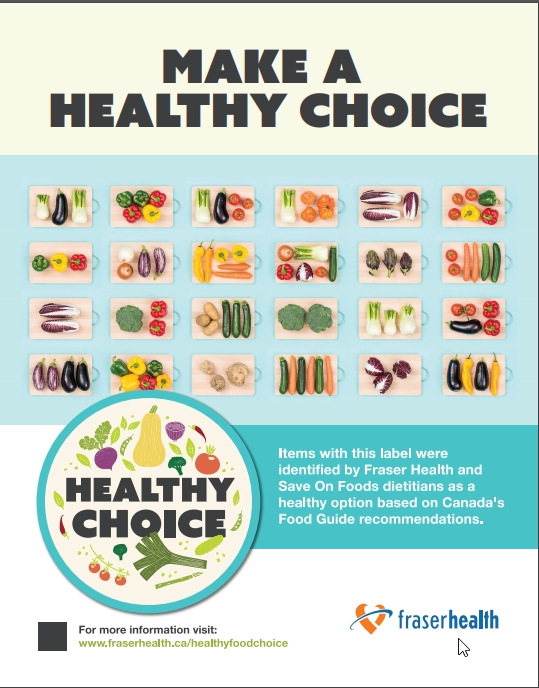 Where
• This pilot program will take place in the following four Save-On-Foods stores across the Fraser Valley:
| | |
| --- | --- |
| Store/Location | Address |
| Downtown Langley, Valley Centre Shopping Centre (South) | 20151 Fraser Hwy |
| Willoughby, SmartCentres Langley (North) | 20255 64th Ave |
| Cloverdale | 17745 64th Ave |
| Clayton | 18710 Fraser Hwy |
Dietitians will be on hand at the Cloverdale location on Friday June 21 and Saturday June 22 from 11am-2pm to provide information about the program and answer questions about nutrition and making healthy food choices.
When
The pilot program will run from Thursday, June 20 to Wednesday, June 26.
Why
Food environments help shape the food choices people make. Research shows consumers' purchasing behavior is influenced by the selection, placement and advertising of healthy foods.
Food is a key contributor to a person's well-being, and unhealthy eating habits are widely recognized as risks for disease. Chronic disease rates in Fraser Health vary, but our regional rates of cardiovascular disease and diabetes are higher than the BC average. Risk factors for these diseases include excess weight and unhealthy eating.
The program aims to increase the likelihood that customers will choose to purchase healthier food options in retail stores.
We believe this is good timing for several reasons:

consumers are saying that they want this type of change and their demands for healthier food options are increasing;
momentum is happening in communities across Canada and North America to use food retail environments to support public health and strengthen local economies; and,
a new version of Canada's Food Guide was launched earlier in 2019 that includes concrete advice for Canadians on healthy food choices and healthy eating habits.

Many similar initiatives across North America have already shown early signs of success in terms of customers' purchasing behaviour.
If a positive impact is shown with the smaller number of items identified for the pilot, this strategy could potentially be expanded and scaled up.
Healthy Eating Information
Contact
If you have questions or would like more information please contact Ken Shaw, Manager, Environmental Health Services: (604) 587-4600, Ken.shaw@fraserhealth.ca.