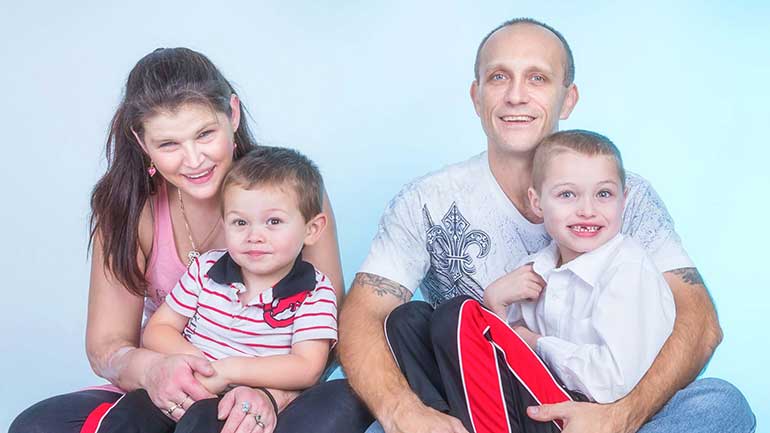 "My parents died from smoking: I wanted to break the chain."
Tammy Madigan started smoking at 10 years old.
Her parents smoked. Both her siblings smoked. When she married, her husband smoked too. But the Surrey mother knew she needed to break the cycle with her two boys – especially when she realized how her second-hand smoke was taking a toll on their health.
"Smoking seemed like a normal thing to do," recalled the 35-year-old Fleetwood resident. "It was something that was just a regular thing inside my home. But both my parents died from smoking and their other addictions and I struggled with smoking too and I wanted to break the chain."
She and her husband had tried to keep their smoking away from their boys, but even so, her seven-year-old son struggled with asthma and frequent chest infections, while her three-year-old suffered from repeated ear infections, eventually requiring surgery.
"We didn't smoke in the house, we didn't smoke in the car, but it would cling to our clothes. We were telling ourselves this was how we were preventing them being exposed to it, but we were fooling ourselves," she said.
So Tammy and her husband Brian made a vow: when their youngest son came home from his latest surgery last spring, he would come home to a smoke-free house and family.
They've made good on their pledge. Tammy has been smoke-free ever since. While her husband struggled to quit for a few months, he succeeded too. The couple had been tapering down for a while and quit completely with the help of nicotine patches and lozenges. They leaned on the support of their church, family and friends – even the gas station attendants they used to buy cigarettes from became part of their support group.
As an incentive, the couple used the money they saved from not buying cigarettes to take their family on special outings at the end of each week. Gradually, they began using the extra cash to buy more fresh produce and support their new healthy lifestyle.
Tammy's decision to go smoke-free after 25 years has had an immediate effect on her family's well-being.
"Since I've quit smoking I've seen a huge difference in my children's health and in my health," she explained. "Usually every winter we are all coughing and sick, but we haven't been sick much at all this year. And if the kids do get sick, it only lasts a day or two, they don't need to go on puffers or antibiotics. And I usually get at least two sinus infections, but I haven't had any since."
Tammy also has the peace of mind of knowing that her children won't grow up seeing their parents as smokers, and become smokers themselves. In fact, her oldest son has become her biggest supporter: whenever a craving hits her, she goes to him for a pep talk.
Her advice to other parents looking to quit for their health and the health of their kids? "Get good people to hold you accountable, involve the people closest to you," she advised. "It's just like any other addiction, it takes a lot of work, but if you use the sponsor system, call that person and tell them how you are feeling and talk about it. You can do it."
If, like Tammy, you are looking to quit smoking, we can help:
Did you know that if you are an in-patient in one of our hospitals or facilities, we can provide you with nicotine replacement therapy (NRT) such as nicotine patches, gum, lozenges or inhalers for the entire length of your stay? Ask one of your care providers to explain the options to you.
Did you know that after your discharge from hospital you can continue to access free NRT through the BC Smoking Cessation Program? This program is open to all B.C. residents and provides non-prescription nicotine replacement therapy products such as the patch, gum, lozenge or inhaler at no cost. Simply head to a drugstore and talk to a pharmacist to learn more. The program also covers prescription smoking cessation drugs through benefits for those who qualify for Fair PharmaCare. Speak with your family physician to see if prescription smoking cessation medication is right for you.
Did you know that you can access free and confidential one-to-one coaching to stop smoking through QuitNow? QuitNow provides support through their interactive online service or through text, chat, email and phone support. They provide phone services in 300 languages, plus an online community of peers to cheer you along in your smoke-free journey. Visit Quitnow.ca or call (call 1-877-455-2233) to speak with a coach today.
Tobacco has played a sacred role in First Nations and Métis cultures in B.C. for thousands of years. Visit Respecting Tobacco and Keep It Sacred for more information on how to quit commercial tobacco and keep tobacco sacred.
Did you know you can learn more about smoking cessation on our website Fraserhealth.ca? Here you can find tips and tricks for stopping smoking, and compare nicotine replacement therapies, and read inspiring articles of others who have quit.