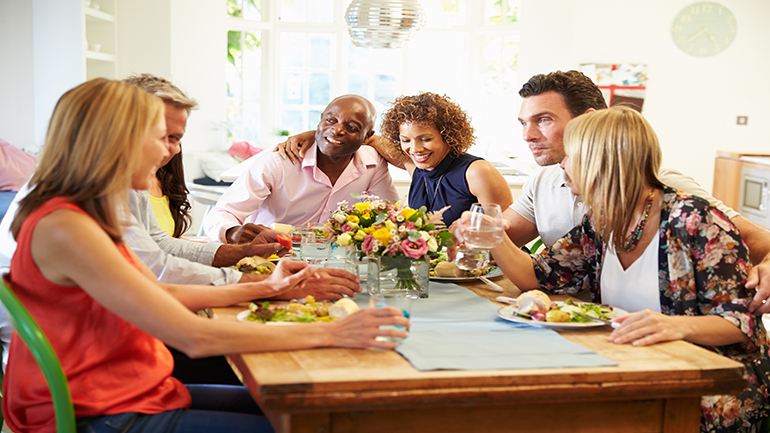 During the holiday season, the number of alcoholic beverages offered at family dinners, office parties and social gatherings can be overwhelming – and may be hard to turn down in the moment.
Thinking in advance about when, where, and why you drink – as well as how much – can help you to better understand how alcohol may be affecting your health. Examining your relationship with alcohol can also help you reduce how much you drink.
Fraser Health recommends following the latest UK guidelines on how much to drink, which are seen as the most recent, evidence-based guidelines that incorporate how alcohol can increase the risk of cancer as well as other long term risks from drinking too much alcohol. According to the 2016 Global Burden of Disease study, alcohol use was the seventh leading risk factor for both deaths and disability around the world in 2016.
The recommended guidelines for both men and women to reduce alcohol-related disease risk are:
No more than six standard drinks a week.
No more than two standard drinks per day.
For the holiday season, and any other time of year, here are five simple ways to say 'no thanks' to another round:
"I'm driving."
Impaired driving is a serious offence, so your friends and family should understand the importance of limiting the amount of drinks you have when you need to get behind the wheel.
"I have too much to do tomorrow."
We all need good sleep, especially when we have full days of work, running errands, taking care of children, volunteering and spending time with family. The last thing you need is a poor sleep or a splitting headache from a hangover.
"I'm not drinking any alcohol this month."
Being alcohol-free for a month can lead to a real sense of achievement. With events like Go Sober for October and Dry January, invite your friends and family to participate with you to save money, sleep better and have more energy.
"I'm starting my healthy New Year's resolution early."
Festive holiday alcoholic beverages can also sneak in extra calories, sugar, salt and fat. Letting people know you are being health conscious can lead to engaging conversations about the reasons we as a society may feel obligated to drink in social settings. The Canada Food Guide recommends water as the beverage of choice.
"I'm taking a break right now, do you have any non-alcoholic beverages?"
Honesty is the best policy. If you have reached your limit, simply swap out your beer, wine or cocktail for a glass of water, sparkling water, or mocktail instead. Taking a break from drinking to enjoy some healthy party snacks can help ensure you don't get lightheaded on an empty stomach.
You can always ask if you could bring a batch of festive mocktails to a holiday event or meal as your contribution.
Try these non-alcoholic drinks below. Happy Holidays!
Mulled cranberry, apple and pomegranate mocktail
From Wallflower Kitchen
Ingredients:
400 ml apple juice
300 ml pomegranate juice
300 ml cranberry juice
1 cinnamon stick
3 cloves
Instructions:
Simmer ingredients for about 10 minutes, strain juice, discard spices, serve hot and enjoy.

Apple pineapple sparkling soda
From Healthy Little Foodies
Ingredients:
375 ml apple juice
375 ml pineapple juice
750 ml sparkling water
1 cup ice
1 pomegranate
1/2 lime cut into thin slices
Instructions:
Add apple and pineapple juice and sparkling water to a large jug, add ice, top with pomegranate seeds and lime slices and serve.
Find other tips to reduce your risk when using substances on our web site.