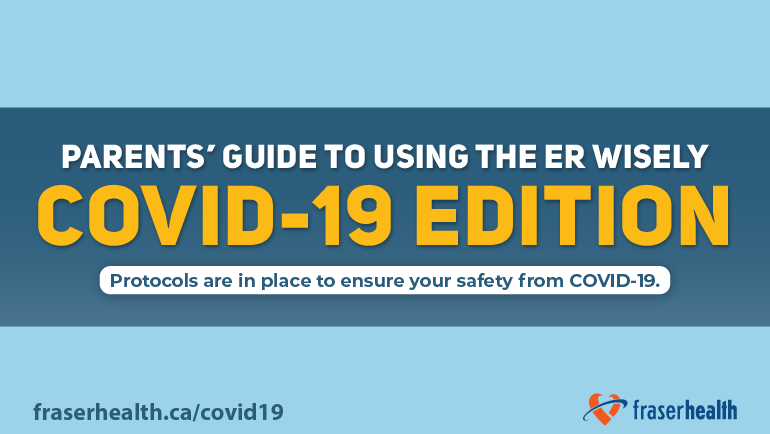 As many parents know, it is inevitable for your child to experience fevers, coughs and tummy troubles at some point. However, while in the midst of the COVID-19 pandemic, it is understandable to feel more on edge when your child is not well.
While it is vital to follow health officials' advice to stay at home as much as possible during this time, it is also important to seek medical advice when your child is unwell or injured.
If you are concerned your child is exhibiting COVID-19 symptoms, you can also use the BC COVID-19 Symptom Self-Assessment or check here for a testing site location finder. To find Fraser Health testing and assessment areas, check here. For non-medical COVID-19 questions, call BC Centre for Disease Control at 1-888-COVID19 or text (604) 630-0300.
Our emergency departments are prepared to safely receive and care for anyone who requires emergency care. Many health services in the community (e.g. family physicians, walk in clinics and Urgent and Primary Care Centres) are also available to those who need them.
Here is some advice to help you know when and where to seek medical attention for your child:
Take your child immediately to an emergency department or call 9-1-1 if your child:
Is having difficulty breathing
Has severe abdominal or chest pain/pressure
Has lost consciousness
Is experiencing heavy bleeding
Has blue lips or skin, or appears very pale
Is coughing excessively, particularly with a fever
Is vomiting excessively, especially if there is blood in the vomit
Has diarrhea and vomiting and is not producing tears, and has not urinated for several hours
Has a high fever, appears very sleepy, and has not improved with acetaminophen (Tylenol) or ibuprofen (Advil)
Is under three months of age and has a fever of greater than 38 degrees C (100.4 degrees F)
Has an injured limb that looks swollen or crooked
Has ingested a toxic chemical, including a suspected drug or alcohol overdose
If you're not sure if it's an emergency, call your family physician first. You can also call 8-1-1 to speak to a registered nurse for immediate health advice (services are available in more than 130 languages).
For non-life-threatening urgent care needs such as sprains, strains, fevers, minor burns and infections, call your family physician for advice or visit an Urgent and Primary Care Centre. These centres are open extended hours, every day, and staffed with trained health professionals to handle urgent and primary care.
For more guidance on how to treat common childhood illnesses at home, see this article written by some of our physicians.
Heath care services are here for you if you need them. Hospitals continue to be safe places for patients. Staff are prepared and have protocols in place to ensure any patient that comes to the hospital with COVID-19 symptoms does not pose a risk to others. These guidelines are in place as a precautionary measure to ensure the safety of patients, staff and medical staff.