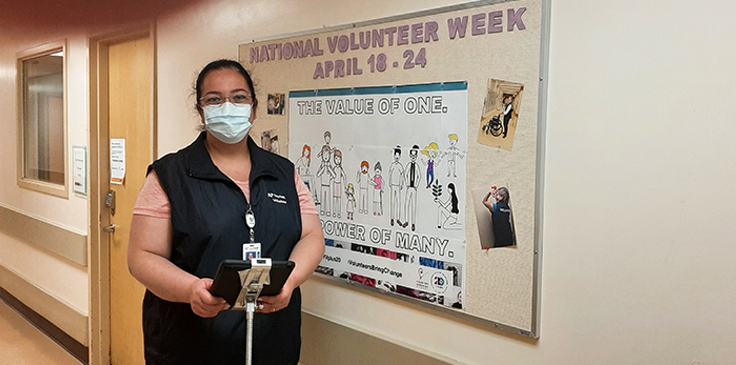 Virtual Patient Visits Volunteer

,
Eagle Ridge Hospital
"My reason for becoming a doctor was because I wanted to help vulnerable people and this is the same reason for volunteering – I want to help those who need it most."
Before immigrating to Canada in 2013, Shagh was an Internationally Educated Medical Doctor (IEMD) in her home country, Iran.
"I remember immigrating to Canada and really missing the hospitals and people. And I started thinking, how can I help? How can I be with people again and be in the hospital and with patients? And then I thought oh right, I can volunteer."
Shagh applied to be a volunteer at Eagle Ridge Hospital right before the pandemic. Soon after, she was called back to her home country to offer her medical services at one of the hardest hit cities in Iran. Without hesitation, Shagh was back in Iran, caring for some of the most vulnerable people, including the elderly in Ramsar County.
After returning home to British Columbia, Shagh began her first volunteer role at Eagle Ridge Hospital in early January. She started as a Guest Service volunteer, helping patients and loved ones navigate the hospital while bringing a smile and a sense of reassurance. Recently however, Shagh has added another role to her volunteer portfolio, one that is unique to COVID-19.
"I volunteer in a new program at Eagle Ridge Hospital called, Virtual Patient Visits. The program helps connect patients with their loved ones through FaceTime or Zoom. I help coordinate the time and date and connect patients with their families or friends using a tablet."
When asked to share her thoughts or feelings when making the virtual connections, Shagh recalls feeling waves of emotions.
"Well, the first five or six of them, I was crying with the patients and families. To see their faces light up and to hear families and loved ones exclaim, 'Oh mom, it's you' or 'Hi dad, we miss you' is very emotional."
Shagh feels particularly moved when she sees daughters connect with their elderly parents.
"My parents are so far away in Iran and I feel like I relate and understand the excitement, sadness and joys of connecting with parents who you're unable to see."
Also, as the mother of twin girls, Shagh relates to the exchanges shared between daughters and mothers.
"One time, two middle-aged daughters asked to 'visit' their elderly mom through the Virtual Patient Visits program. As soon as I connected them with their mom and put the tablet in front of the elderly patient, a big smile came to her face and she said, 'Look here, there are my two little girls!' Hearing this brought tears to my eyes as a mother of twin girls."