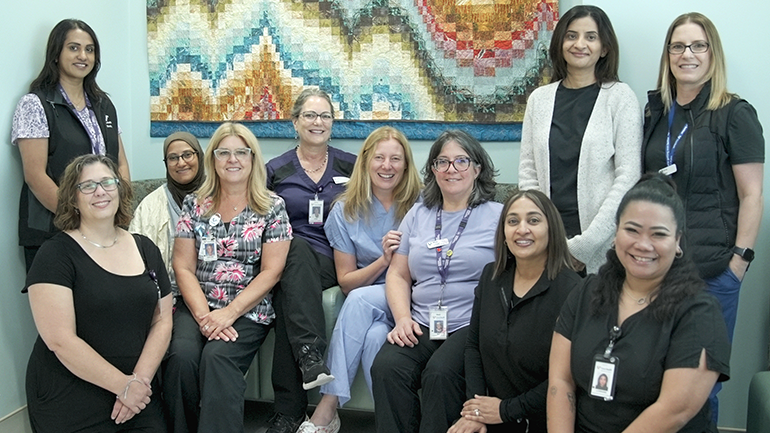 Meet the Jim Pattison Outpatient Care and Surgery Centre's Breast Health Team. In their line of work screening for breast cancer and serving breast cancer patients, they are no strangers to the gravity of the expression: 'Every second counts'. From the comfort of a reassuring hand to a swiftly executed action plan, each member of this team is fully dedicated to providing an exceptional patient experience.
When it comes to a cancer diagnosis, timing is everything. You can depend on the Jim Pattison Outpatient Care and Surgery Centre Breast Health Team of surgeons, anesthetists, radiologists, imaging technologists, nurses and administrative staff to be at the ready to support their patients throughout their care journey and the next steps of their breast health plan.
"In the past, suspicion to diagnosis was taking far too long which is why this clinic started," explains Dr. Rhonda Janzen, surgeon and one of the founders of the clinic.
"Now, we can get an ultrasound in a cancellation spot on the fly or we've got six extra core biopsy spots a day because that's been organized the way it needs to be – it's come such a long way," she says.
The clinic operates under a model that is unique, efficient and wholly patient-centred.
"It is exactly what you would want for a patient and their journey because we can do so much from start to finish. Everybody from medical imaging to the person in the biopsy room to the nurses to their first interaction with our booking clerks all work together seamlessly – it just works so well," says Mita Rychkun, a licensed practical nurse on the team.
"Everybody has a role to play and they all know their role and do it. It's just so amazing to see that in action," she says.
"The level of compassion is the unique part of the team. Together they are people working for the same goal; it's patient first, patient-centered," says Kim Lowry, manager, Clinical Operations.
Registered Nurse Jana Park agrees. "One of the exceptional things about our clinic is that we can get the patient a clinical exam with a surgeon, an ultrasound, a mammogram, a biopsy potentially the same day and the patient can come back a week later and start a treatment plan," affirms Jana.
New patients with breast health concerns are contacted within 12 days from referral to their first appointment, while patients with a high risk or suspicion of malignancy are seen within five days.
The clinic runs like a well-oiled machine with a crew of caring pros making this magic happen.
Kim is proud of the dedication and determination that the team demonstrates daily.
"We wouldn't be successful without medical imaging doing what they do, or ultrasound. Working together as a cohesive unit is essential," she says.
"When the patients come in, they're quite anxious," notes Sonia Gill, booking clerk.
"When we've helped them and guided them through the process, we assure them that even if there is a problem, we're here. We've got this, we've got you," she says.
This ethos is carried through the entire clinic team. They will go out of their way to keep patients informed and help ease their anxiety. They actively collaborate and reach out to other sites to ensure patients get the answers or treatment they need.
Kim recalls a time when a patient was in urgent need of surgery and how teams pulled together to make it happen. A patient care coordinator's quick coordination with the surgical team at Surrey Memorial Hospital led to same-day surgery for this patient.
"When word got up to the OR that we have a patient in a horrible situation, the patient care coordinator just picked up the phone and connected with the OR in Surrey to say, 'We can't get the patient done here today, we need them done there.' Word travels, and this was a super-proud moment for me seeing my teams coming together," Kim reflects.
Licensed Practical Nurse Shelly Prasad describes one of her proud moments too: "A young lady approached me and said 'thanks for holding my mom's hand when she was scared during the biopsy.' It feels so nice that I made a difference," Shelly says.
The work can be emotional. Days in the clinic can be unpredictable depending on what results come through for patients but team members are ready to support patients.
"Sometimes we are the first person they may come in contact with after their diagnosis and it's emotionally a lot. We have to do our best to support them, comfort them and let them know we're going to do everything we can to help them," says Jaswinder Pinag, mammography supervisor.
There are countless examples of service delivery excellence, as going above and beyond is simply 'a day in the life' at the clinic.
Licensed practical nurses often take additional training to support radiologists with patient biopsies and other treatments, resulting in patients being seen more promptly, for example. The care aide in the clinic has helped ease reluctant patient's anxiety, convincing them to come in for the appointment to help avoid a negative outcome.
The team's inspiration comes from their patients.
"It's an unbelievable privilege to watch people navigate this from all ages, all walks of life. You learn so much from how people manage a diagnosis that most people aren't even expecting. They do it with a lot of grace and you can learn a lot from them," says Dr. Rhonda Janzen.
Surgical Oncologist Dr. Sonia Cader shares her pride about the work this team does: "Everybody works hard in this clinic. Everybody cares about patients. It's gratifying to see medicine working so efficiently."
The Jim Pattison Outpatient Care and Surgery Centre Breast Health Team are recipients of a Service Delivery Excellence Award.