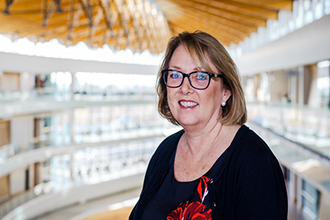 Carolyne Neufeld provides leadership for Indigenous Health and Cultural Safety across Fraser Health.
Carolyne works with Fraser Health's Executive team, the Aboriginal Health Steering Committee, Métis Nation British Columbia (MNBC) and partners to integrate Indigenous knowledge into the values, policies and practices of Fraser Health. Carolyne leads a team that supports staff and medical staff across Fraser Health to advance reconciliation and uphold relevant legislation; to improve health services for First Nations, Métis and Inuit people and to create a path forward that respects the human rights of Indigenous peoples. Carolyne was previously the executive director of Indigenous Health at Fraser Health for three and a half years. Before coming to Fraser Health, Carolyne spent 25 years working in health care for First Nations at the local, regional and national levels.
Carolyne has a Masters of Leadership from Trinity Western University and a Bachelor of Science in Nursing from the University of British Columbia. She is a Registered Nurse graduate from the British Columbia Institute of Technology and has a Provincial Instructors Diploma from Vancouver Community College.