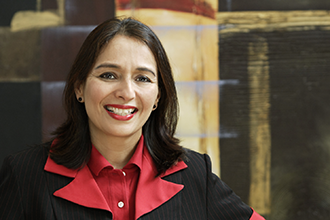 Manpreet Grewal has been with Abbotsford Community Services since 1989.
Ms. Grewal's role as director of Multicultural and Immigrant Integration Services has overseen the development of several crime prevention and diversity initiatives as well as programs that help the community address the needs of individuals with language and cultural barriers and assist thousands of immigrants and refugees integrate into community life each year (including the establishment of an overseas office in India).
She has also worked as a freelance journalist, with regular columns in local and provincial newspapers as well as contributions to CBC Radio and Shaw TV. Ms. Grewal has a Master's Degree in Political Science from the University of Delhi and a Diploma in Print Journalism from the London School of Journalism. She has also studied at BCIT and completed the Chartered Director Program from Macmaster's University in 2016. Manpreet is the vice president of the Affiliation of Multicultural Societies and Service Agencies of BC board and board director for Prospera Credit Union.