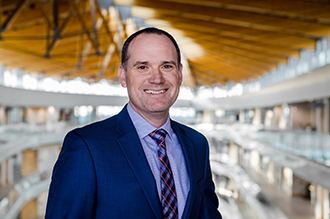 Dermot Kelly provides strategic leadership to a range of clinical services, programs and acute care hospitals.
Dermot provides executive and strategic oversight to a range of clinical services and acute care sites within Fraser Health to meet both existing and emerging health care needs.
He is accountable for the hospital and community health services in Langley, White Rock, Delta, Tri-Cities, Burnaby, Maple Ridge, Pitt Meadows, Chilliwack, Hope and Agassiz.
Dermot has a strong commitment to patient-centred care and partnerships, and a focus on cultural safety and humility.
Dermot has over 15 years of experience in various leadership roles across Vancouver Coastal and Island Health Authorities. Most recently, Dermot was the executive director for the North Island (Geography 1) area for Island Health including five hospitals, health services for 44 communities, and the executive director lead for Aboriginal Health and Rural/Remote Health. His various roles at Vancouver Coastal Health Authority included medical affairs, surgery, ambulatory care, quality and patient safety, infection prevention and control, and the Eye Bank of BC.
Dermot holds a Master of Science degree in Physiology from McGill University. He is a surveyor with Accreditation Canada, a member of the Canadian College of Health Leaders, and an executive member of the BC Patient Safety Quality Council Advisory Committee.