Information for families of people in long-term care and assisted living.
Last updated: January 8, 2021
Social outings and appointments | Personal services | Infection prevention and control | Outbreak response | Advance care planning
Family and social visitations
Long term care and assisted living policy posters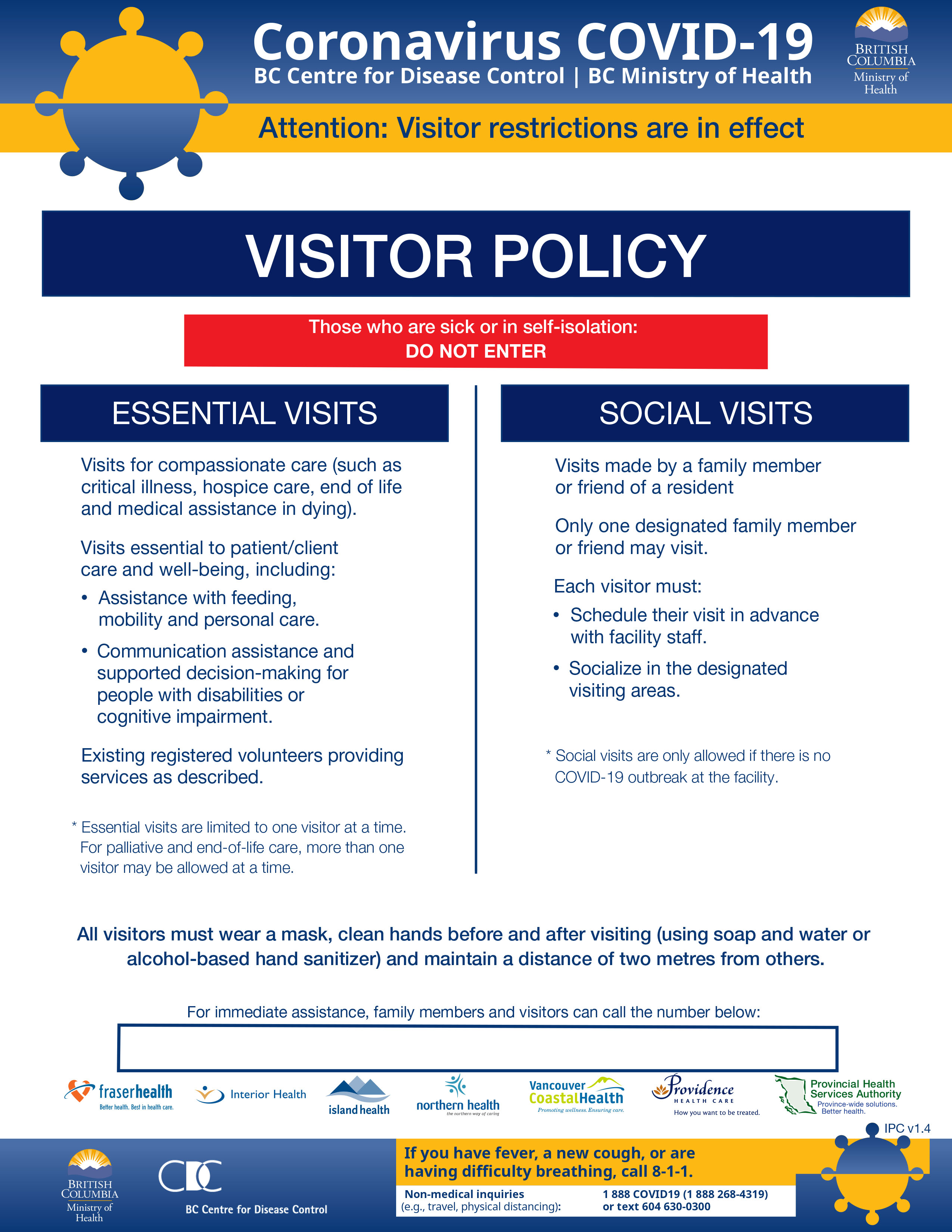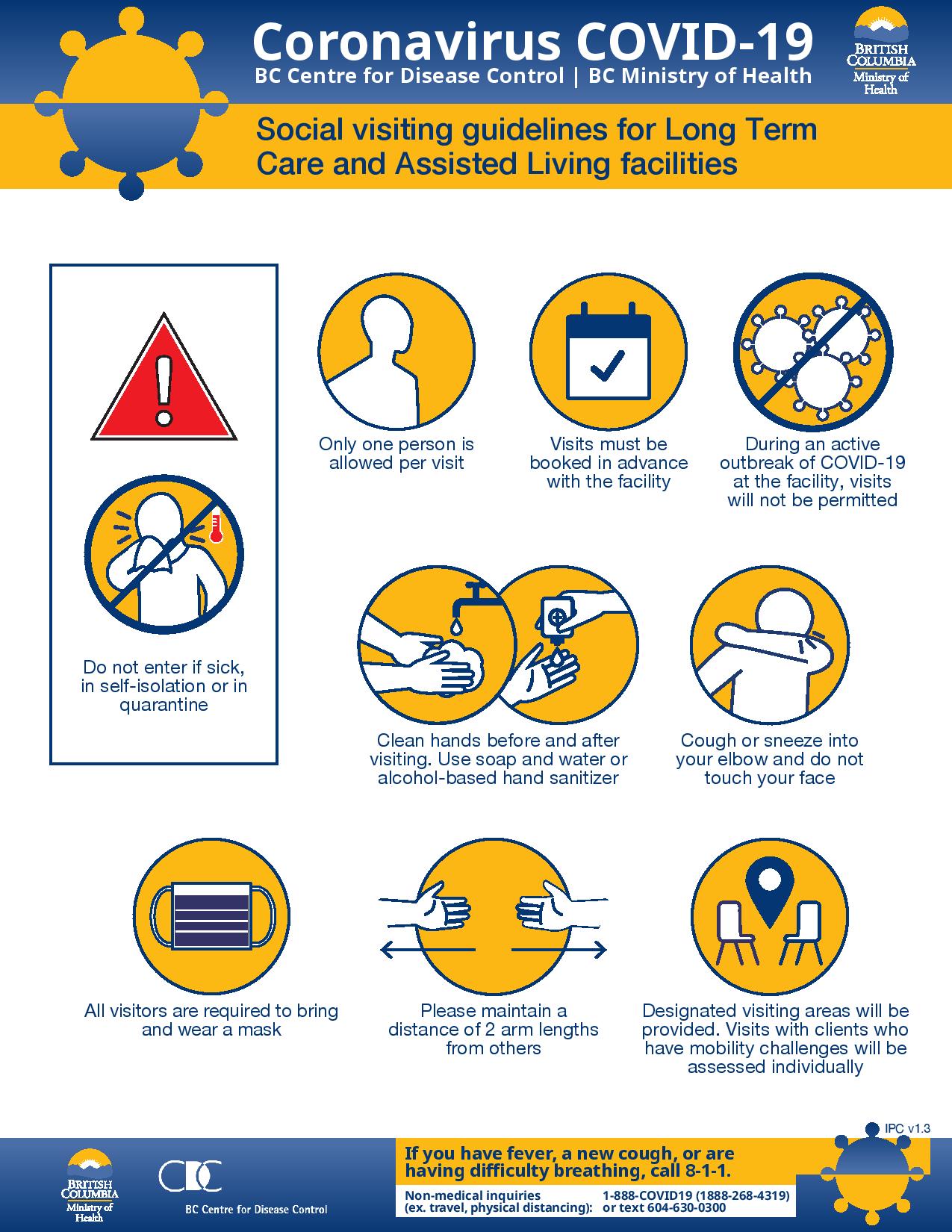 Visitors to long-term care homes or seniors' assisted living residences
To support visits in long-term care homes and seniors' assisted living residences, guidance has been developed by the Ministry of Health, which requires that facilities take several precautions to reduce the risk to residents.
Family/social visits are limited to a maximum of one family member or friend at a time as space permits in a facility. The length and frequency of visits are determined by the care facility, depending on space and support availability.
Residents will be able to visit with one designated family member or friend.
All visits must be booked in advance to allow for the operators of long-term care and assisted living residences to safely accommodate scheduled visitors.
Visits are not allowed if there is an active COVID-19 outbreak at the residence.
Care homes/residences may offer visits at three key locations:

Outdoor locations, which are dedicated to visiting (weather permitting);
Indoor designated locations; and
Individual single-client rooms for residents with limited mobility.

Residents must remain on the grounds of the care home/residence and in the designated visitation area for social visits.

Any furniture and surfaces in the visiting area must be sanitized at the end of each visit to meet the BC Centre for Disease Control guidelines.
Visitor screening
All visitors will be screened for signs and symptoms of illness, including COVID- 19, before every visit. If you have signs or symptoms of illness or are in self-isolation or quarantine, you will not be permitted to visit.
Visitors must wash their hands with soap and water or use an alcohol-based hand sanitizer, making sure to cough or sneeze into the elbow and practice safe physical distancing or two metres (two arm lengths).
Visitors must bring a mask and wear it for the duration of the visit.
Scheduled outdoor visits
Scheduled outdoor visits may be cancelled due to poor weather.
If alternative arrangements can be made that ensure a safe visit can occur in another location and two metre physical distancing can be maintained, that option is available at the discretion of the care home/residence.
If an alternate space is not available to support a safe visit, your visit may need to be cancelled and rescheduled.
Virtual visits
We encourage families and friends to stay in touch virtually, particularly where in-person visitations are not possible.
One designated visitor
The safety of our vulnerable residents and staff is a priority.
We have limited the number of visitors to best support physical distancing and ensure more families can participate in visits.
Food, drink and gifts
Generally speaking, you may take food, drink or items for residents.
Please check first with the facility or site for specific regulations and procedures, such as what can be brought, where to bring items, and at what time. Food and items such as clothing should be in disposable plastic bags.
Food items need to align with dietary requirements, be in disposable containers and require little to no refrigeration or preparation. Essential care items (such as soaps and lotions) must be new.
Essential visits
Essential visits are limited to one visitor per resident within the facility at a time, except in the case of palliative/end of life care. A visitor who is a child may be accompanied by one parent, guardian, or family member.
Examples of essential visits can include:
Visits for compassionate care, including critical illness, palliative care, hospice care, end of life, and medical assistance in dying

Visits paramount to the resident's physical care and mental well-being including assistance with feeding, mobility, or personal care; communication assistance; and assistance by designated representatives for persons with disabilities.

Visits for supported decision making

Police, correctional officers, and peace officers accompanying a resident/patient for security reasons
Social outings and appointments
Long term care: Essential outings only
Older people and those with chronic health conditions are at higher risk of developing more severe illness or complications. Long-term care residents outside activities are limited to essential outings only (i.e., medical appointments).
Assisted living: Social and external activities, COVID-19 safe
Residents in seniors' assisted living facilities who reside in their own suite are generally less frail and because of the separate living arrangements, there is less risk of transmission between residents. These residents are able to participate in social and external activities that are aligned with general public health guidance.
Residents should protect themselves by avoiding large gatherings, staying away from people who are ill, maintaining safe physical distance and wearing a non-medical mask when in enclosed spaces such as transit or stores where safe physical distances cannot be maintained.
Personal services
Hairdressing and other personal services
To help ensure the safety of residents, the following criteria must be met for personal services to be offered within long term care or seniors' assisted living facilities:
All service providers must follow the WorkSafeBC protocols for personal services returning to operation, including the development and submission of safety plans to the director of the facility/residence; and
Facility operators must keep a list of every resident who has received services and when these services are provided.
While residents are not restricted from accessing services outside of their residence, allowing personal services to be provided by a single service provider within a facility is a safer option for reducing the risk of COVID-19 transmission than having residents go out into the community for these services (where you may have multiple residents visiting different service providers).
Infection prevention and control
COVID-19 health and safety measures
The health and safety of our residents, their families and our staff is our first priority and a responsibility that is taken very seriously. We continue to follow directions from public health officials and other clinical experts regarding the best infection prevention and control measures to take to avoid transmission of the COVID-19 virus.
Some of the measures we have put in place are:
a redesign of meal service spaces to provide at least two metres of space between residents; meal services brought to rooms;
limiting the numbers of participants and personal contact during recreational and common area activities; providing one-to-one activity as appropriate;
ensuring twice-daily screening & ongoing monitoring of staff and residents for any signs of illness;
enhancing our daily cleaning practices;
ensuring that staff wear a procedure mask that covers their mouth and nose, eye protection and other personal protective equipment as recommended;
observing outbreak prevention and outbreak management measures as required.
We know that staying away from your loved one is very difficult and we appreciate that you are cooperating with this request with the goal of keeping our residents and staff healthy.
Outbreak response
Due to the risk that COVID-19 poses to vulnerable seniors, the threshold for declaring an outbreak is very low: if one staff or one client receives a positive COVID-19 test result, an outbreak will be declared at the site.
Current outbreaks
A list of infectious disease outbreaks (e.g. COVID-19, C. difficile, norovirus, influenza) declared at long-term care, assisted living and independent living sites within the Fraser Health region is available on our Current Outbreaks page.
Notifications of outbreaks
In the unfortunate situation when an outbreak is identified at a site, the Public Health team will contact the staff member who is infected as well as the care home and residents as appropriate. Long-term care residents and assisted living tenants and their family members will be notified by e-mail/ phone.
Advance care planning
Talking with your loved ones about their future health care wishes and what's important to them is a good idea for everyone, no matter their age or health status. In some cases where your loved one may be unable to engage in such discussions, having these conversations within your own family will be very important.
Appreciating how uncomfortable it can be to have this conversation with a loved one, we have resources to help you on our Advance Care Planning page, fraserhealth.ca/ACP.
You may have already heard from the care team or family doctor offering to have COVID-19-related goals of care discussions with you. These resources can help you understand why these conversations are important and to ensure your loved one's values and wishes, and preferences for care, are expressed, documented and respected.
Questions and concerns
If you feel your situation warrants a social or essential visit, please discuss your request with the manager or executive director at your loved one's long-term care facility. They will review your request and balance it with the needs of the other residents and staff.
If your visit is not authorized, you may request a formal review through the Patient Care Quality Office (PCQO) at 1-877-880-8823 or by email at pcqoffice@fraserhealth.ca.
Restrictions are in place to protect the health of our patients, clients, residents, staff and physicians. Thank you for your understanding. Orders from the Provincial Health Officer or a Medical Health Officer take precedence over essential visitor policy.