Both the Pfizer and Moderna mRNA vaccines are effectively interchangeable and are safe to mix.
If you had Pfizer, Moderna or AstraZeneca for your first dose, it is safe and effective to have either mRNA vaccine (Pfizer or Moderna) for your next dose.
COVID-19 mRNA vaccines help your body make antibodies that protect you from getting sick if you are exposed to the COVID-19 virus. Both the Pfizer and the Moderna vaccine are around 95 per cent effective at protecting you from experiencing a severe case and hospitalization if you were to get sick with COVID-19.
The possible side effects for both vaccines are also very similar. Common side effects include tiredness, headache, muscle pain, fever and nausea. These are normal signs that your body is building protection. These side effects may affect your ability to do daily activities, but they should go away in two to three days. Some people have no side effects.
The Pfizer vaccine is currently approved for people age five and older. Currently, Moderna is approved for people who are age six months and older.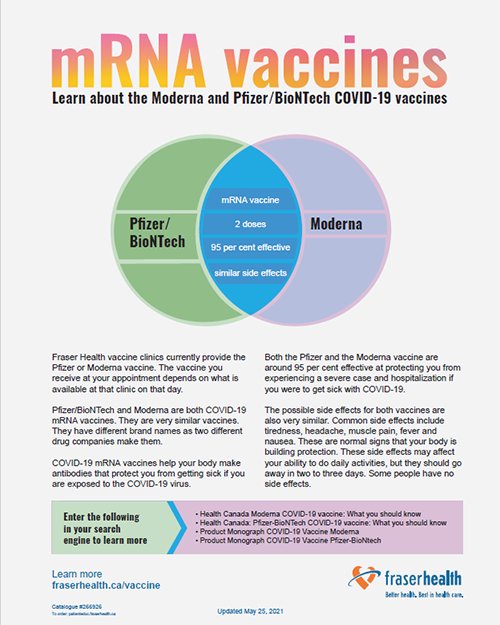 Learn more: