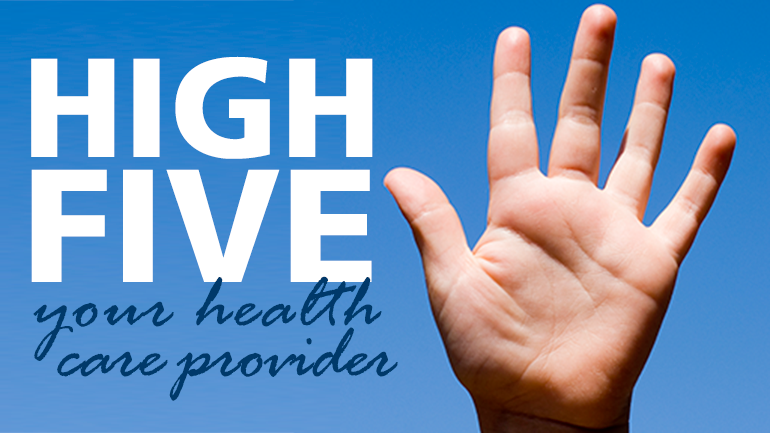 This week's high fives go out to our amazing people at Chilliwack General, Eagle Ridge, Peace Arch and Royal Columbian Hospitals as well as Surrey Memorial Hospital's Pediatric Emergency team.

Want to send a high five to your health care provider or Fraser Health team member? Leave a comment below or email feedback@fraserhealth.ca.
For Chilliwack General Hospital
My wife and I would just like to say a big thank you to all the nursing and administration staff in the Maternity Unit. Your attention to care, great upbeat and friendly personalities made our birth and stay here very enjoyable. Please keep up the great work and positive attitude while you bring new life into this world.
We enjoyed our time here.
---
For Eagle Ridge Hospital
I would like to leave a thank you note for Dr. Tim Sveinbjornson.
Dr. Sveinbjornson made a big difference in my care. He took the time to explain his role in surgery, asked me about my concerns, and addressed these concerns swiftly. I was most impressed after I expressed that during a previous surgery I had experienced ongoing dizziness, nausea, and vomiting. To this, he replied, "We can do better than that." He did. I left the hospital without experiencing any nausea or dizziness, and my pain was minimal. His professionalism was outstanding and I am encouraged that a doctor with his experience can still hear the small concerns from patients of a small surgery without minimizing them in context to more complicated patients.
Thank you for such a positive hospital experience!
---
For Peace Arch Hospital
I was in the Emergency at Peach Arch hospital. I watched the staff interact with patients for hours. I would like to acknowledge that nurse Kim went above and beyond with all the patients and their families'. She was very respectful and admirable.
Thank you.
---
For Royal Columbian Hospital
We would like to send a special thank you to Nurse Linda in the Surgical Recovery Unit. She was amazing to deal with and took great care of our son after his surgery. We appreciate your kindness and time spent with us.
Another thank you to the nursing staff in the Columbia Tower 3 North who took care our son for the following days. We appreciate your helpfulness and kindness with him.
Thank you again.
---
For Surrey Memorial Hospital Pediatric Emergency Team
We have had a few visits with our daughter, who was born with Adrenal Insufficiency. We have always had the most amazing care from all the nurses and doctors there. As a parent of a child with medical needs, it is never easy to have to go to the hospital when most would be able to stay home. It is never easy to give your child injections and take them to the ER at midnight because they cannot keep down their medications. Going to the hospital with your child never. Becomes. Easy.
What does make the whole scenario better is the absolute best care we have been given at Surrey Memorial Hospital. The nurses have treated my daughter so well, and are so gentle and kind. She gets so scared when she knows we have to go to the hospital, but the nurses talk to her through the whole process (about princesses-her favorite!) and help her get through it all. Our last couple visits didn't end in an admission (yay!). I am so thankful for this resource in our community, and how we have always been taken seriously with her medical condition. We know this disease can be life threatening when not treated promptly, so we appreciate the fact that triage always listens and gets our daughter looked at as soon as possible.
Thank you all so much over the past few years, I know this can be a thankless job some days, but I hope you know how much your kindness and expertise means to our whole family.
---
Thank You to the Pediatric Emergency staff who attended to my son during his time there at the beginning of January. They were all fantastic, the nurses and doctor, and went above and beyond to make him feel comfortable and provided him with the best care. My son had never had an IV before and the male nurse was so great with him and was talking to him about movies and then all of a sudden it was in and my son didn't feel a thing. They were great!