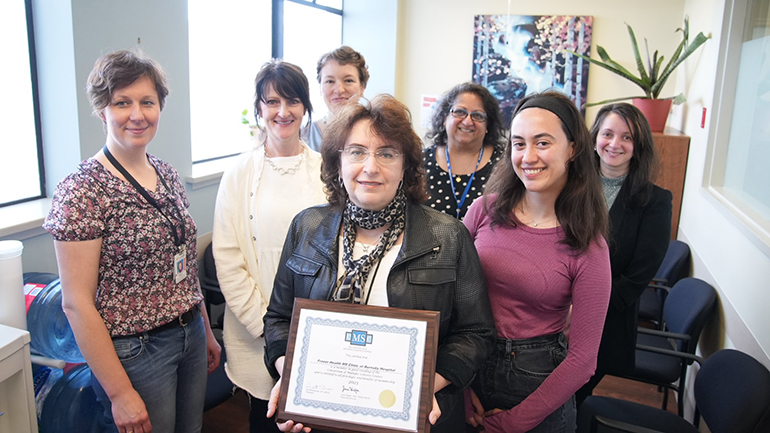 Since 2004, the Fraser Health Multiple Sclerosis (MS) Clinic at Burnaby Hospital has provided care to more than 4,000 patients.
Photo: Fraser Health Multiple Sclerosis Clinic team
Dr. Galina Vorobeychik is passionate about team-based care. For nearly 20 years she has worked with neurologists from Burnaby Hospital, Royal Columbian Hospital and Abbotsford Regional Hospital to build a regional multiple sclerosis clinic from the ground up.
"Early on in my career I did a fellowship in multiple sclerosis," says Dr. Vorobeychik. "The only clinic at the time was at UBC and I wanted to start a clinic in Fraser Health."
Opened in 2004, the Fraser Health Multiple Sclerosis (MS) Clinic at Burnaby Hospital not only provides comprehensive care to more than 4,000 patients, it also acts as a hub for multiple sclerosis research. The clinic was recently featured in a case study by the American Academy of Neurology.
The Canadian 5C Model - Comprehensive Coordinated Community-Based Care Of MS Patients Close To Home case study looks at the benefits of comprehensive, coordinated, community-based, close-to-home care of multiple sclerosis patients. The study notes that the 'one-stop-shop' approach adopted by the Fraser Health Multiple Sclerosis (MS) Clinic at Burnaby Hospital, provides more opportunities for better patient outcomes, better collaboration between care teams and strong recruitment and retention of physicians.
The study cites the following example of why this model succeeds: "A new patient to the clinic would receive an initial multiple sclerosis diagnosis and disease modifying therapy and management from a neurologist. The patient would also receive all necessary physical and psychiatric interventions depending on their unique symptom management needs. This could include care from any combination of neuro-ophthalmology, radiology, psychiatry, rehabilitation, urology, gastroenterology, physical and occupational therapy; as there is a prioritized patient pathway for the Multiple Sclerosis Clinic patients with these specialists."
"Patients receive care from physical medicine and rehabilitation physicians directly in the clinic and may see the other specialists in the clinic or the specialty office. Social work and primary care practitioners provide key coordination and education to patients and caregivers throughout the spectrum of care. Health units offer at-home safety assessments at home, personal care physiotherapy, or at-home occupational therapy and mental health units with access to physiatrists, psychiatric nurses and counselling also may get involved in patient care if a referral is sent from the MS Clinic."
Since MS is a chronic condition, patients tend to stay with the clinic for years or even decades.
"Our patients come and they often stay for several years," says Dr. Vorobeychik. "Typically we used to see patients diagnosed with MS in their 20s, 30s and 40s but now we're seeing patients who are older than 50 diagnosed with MS for the first time. This is not unique to our clinic, it's a world-wide phenomenon."
In addition to providing comprehensive care to people living with MS, the clinic is actively involved in research. Neurologists from Burnaby Hospital, Abbotsford Regional Hospital and Royal Columbian Hospital have collaborated on more than 60 research projects. The clinic's research assistants have gone on to medical school and its graduate students have cut their teeth there with eight of the 10 current neurologists having done fellowships or training on site.