The South Asian Health Institute works to fulfill the health needs of South Asians.
What is the South Asian Health Institute?
In 2013, the South Asian Health Institute (SAHI) was established to improve the health for South Asian people through innovation and evidence-based strategies. We understand the importance of culture and its impact on health, and aim to reduce chronic disease burdens as well as other emerging health issues for people in the South Asian community. SAHI works closely with Fraser Health programs, community leaders and stakeholders.
Why do you focus on South Asian people?
Research has shown that South Asian people are two to three times more likely to develop heart disease, kidney disease, stroke and diabetes ten years earlier in comparison to other ethnic groups.
British Columbia is in the midst of a public health emergency due to toxic drugs. It is affecting everyone, regardless of their job, education, age, ethnicity and race. Tragically, 2,224 people across B.C. lost their lives due to overdose caused by toxic drugs in 2021.
In the Fraser Health region, our families, friends, neighbours and even ourselves, can be affected by the toxic drug crisis. When someone is using substances (drugs) that are illicit, they cannot check for the drug's contents, dosage (amount) and potency (strength). They may not know what is in their substance (drug), which can sometimes lead to an accidental overdose. Learn more by reading the Fraser Health Chief Medical Health Officer's report.
Read the guide below to learn about what you can do to help. The resource is available in English | Hindi हिंदी | Punjabi ਪੰਜਾਬੀ | Urdu اردو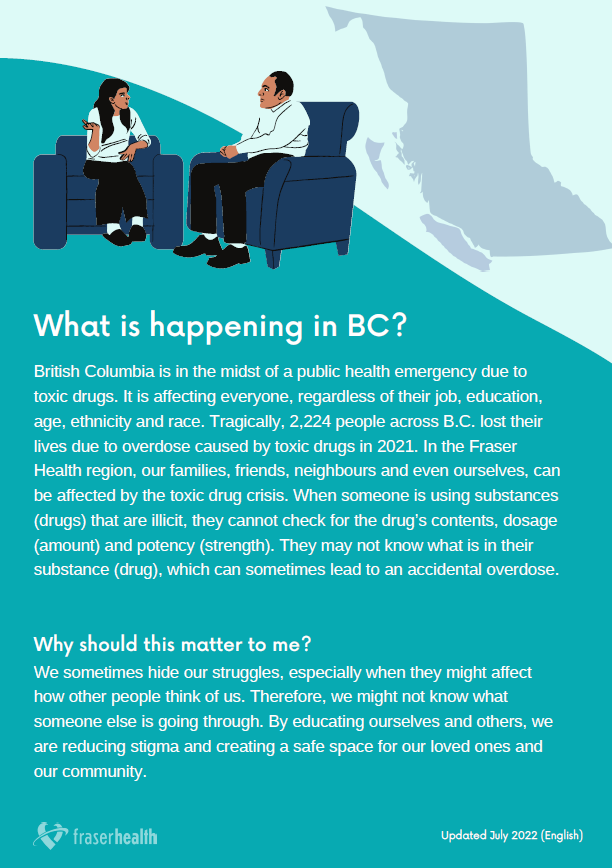 Learn more by watching the videos below.
Courageous conversations - in Hindi
Courageous conversations - in Punjabi
How do you work with South Asian people?
The Sehat program is a community-based outreach program that partners with South Asian places of worship and businesses to improve the health and wellness of the community. The Sehat program engages, empowers and educates South Asians about how to make healthy choices to prevent chronic diseases.
Prevention of substance use-related harms
South Asian Health Institute aims to:
Support system navigation for South Asian people in the Fraser Health region seeking mental health, substance use, and harm reduction services and support.
Work with partners to build community and health system capacity for preventing harm and deaths from toxic drugs amongst the South Asian community, and to adequately meet the health needs of South Asian peers with lived and living experience of illicit substance use and their caregivers and loved ones.
Create awareness, reduce stigma and support community dialogue on mental health, substance use and the drug toxicity crisis.
Drug toxicity safety resources
Please download and share these resources to promote safety and reduce harms in the community. If you require any support in finding related resources or services in South Asian languages in the Fraser Health region, email us at southasianhealth@fraserhealth.ca.
Lifeguard App
Designed to provide users with a private, secure way to prevent harm from toxic drugs when people use alone. The app can be downloaded at both the App Store and Google Play.
Overdose Intervention App
Allows users to access linguistic and culturally specific resources to prevent harm from toxic drugs. The app is available in English and Punjabi. Download it at the App Store or Google Play.
Signs of overdose in Punjabi

SAHI staff and volunteers, who can speak various South Asian languages, engage with community members at key businesses and places of worship to:
Share tips and resources on healthy eating, mental well being and other ways to live a healthy lifestyle. Visit fraserhealth.ca/south-asian-healthy-resources for the resources.
Help with system navigation by improving access and removing barriers for those seeking health services and support. Visit fraserhealth.ca/south-asian-newcomer-resources for resources to help people find their way around the health care system e.g., key phone numbers, finding a doctor, getting healthcare in languages other than English and etc.
SAHI staff and volunteers educated community members on public health orders, masks, hand washing, vaccination and the resources available to them. During the pandemic, from November 2020 to December 2021, SAHI interacted with 15,395 community members and distributed 7,609 resources.
SAHI consulted on culturally competent, language specific health messaging.
SAHI worked with our community partners to hold 29 in-reach community vaccination clinics between April and October of 2021. Over 7,000 people were vaccinated at these clinics.
Join our WhatsApp group to receive health tips
SAHI created this group to share trusted mental health, healthy eating and lifestyle related information with you. We'd love to reach as many of our South Asian members as we can. Please share these tips with your family and friends. Join by scanning the QR code with your smartphone:

Watch our Apnee Sehat video to learn more
You can get involved by becoming a wellness ambassador for the Sehat program. By volunteering for the Sehat program, you will play an important role in the success of our community outreach initiatives.

Learn more and become a Sehat wellness ambassador.
South Asian Health Report