Information to help find your way around the health care system in B.C.
Health care in Canada might be different than the health care from where you came from. It can be tough to know about and find health services that are available to you. This page has resources to help newcomers find their way around our healthcare system in BC. Newcomers include: immigrants, refugees, migrant workers, etc.
Finding your way around our health care system: a guide for newcomers to Canada
Fraser Health has developed a guide for newcomers to help you find your way around our health care system. This guide is for anyone wanting to learn more about our health care system. The guide addresses common questions regarding our health care system and describes specific services within Fraser Health.
This resource is available in: English | Arabic عربى | Bengali বাঙালি | Gujarati ગુજરાતી | Hindi हिंदी | Pashto پښتو | Farsi فارسی | Punjabi ਪੰਜਾਬੀ | Somali | Urdu اردو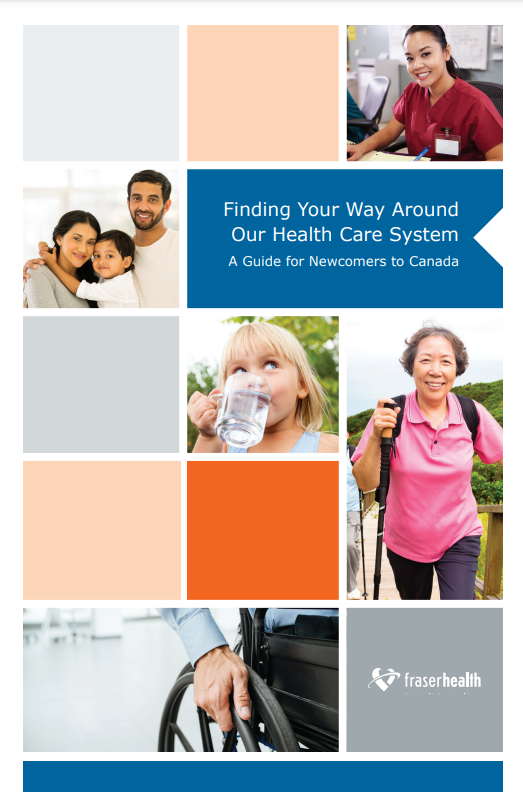 Need help finding a doctor?
Having a regular family doctor can help keep you healthier. Over time, your doctor gets to know you and your medical history. This knowledge makes it easier to diagnose concerns, order the right tests or refer you to the most appropriate health professional to help you with your health needs. Your doctor is your main partner in your health care.
Click here to read tips on how to find a family doctor in B.C.
List of physicians that accept IFHP and speak South Asian languages
This list contains names and contact information of physicians practicing in the Fraser Health region who speak the following languages: Arabic, Farsi, Hindi, Punjabi and Urdu (in addition to English). Physicians who can offer their services to protected persons, including resettled refugees and refugee claimants, under the Interim Federal Health Program (IFHP) are identified in the column G as 'Yes'. You can find physicians by their names, cities where they provide services or by languages that they speak.
Click here for the physician list for refugees and new immigrants
Health services available to you
A list of free health services for government supports, mental health support, medical insurance support, referral services and other community services. This list includes services like:
Health link BC 811
Fraser Health Virtual Care
310-Mental Health Support
Kid's Help Phone
Medical Insurance Helpline
Alcohol and Drug Information Referral Service
BC 211
Urgent Primary Care Centres
Walk-in Clinics.
This resource is available in English | Arabic عربى | Bengali বাঙালি | Gujarati ગુજરાતી | Hindi हिंदी | Farsi فارسی | Punjabi ਪੰਜਾਬੀ | Urdu اردو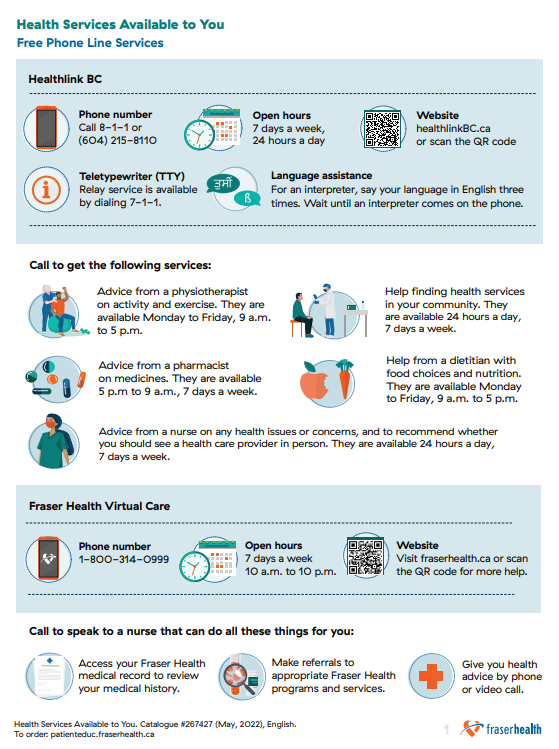 Can I get health care in my own language?
Yes. If you are going to a Fraser Health owned and operated service, and you do not understand or speak English, we can get a medical interpreter who can speak your language.

If possible, please let your health care provider know in advance if you would like to use an interpreter. Your health care provider will provide an interpreter for you. The interpreter may be available by phone, video, or in person. This is a free service.

If your health care provider tells you that an interpreter is not available, or for informal conversations (for example, asking for a glass of water), you can ask a trusted family member or friend to join your appointment.
Instructions for you
When booking an appointment:
If you are booking an appointment, you can ask for an interpreter for your appointment.
Walk-in appointments or emergencies:
You can often get an interpreter even if you do not have an appointment. Tell the receptionist or health care provider what language you speak. The interpreter might be available over the phone, over video, or in person.
Making a phone call:
You might need an interpreter if you receive a phone call from Fraser Health or if you make a phone call to a Fraser Health service. Some services are able to add an interpreter to the call. If you are speaking to a person, try saying your language in English three times. Where it is possible, the person you are speaking to will try to add an interpreter to your call. Please be patient and wait until the interpreter joins your call.
Not all phone lines have this service. If it does not, please have a family member or a friend who speaks English make the call for you.
Instructions for the health care provider
More information about Interpreter Services can be found by searching "Language Services" on the Pulse.
Doctor's offices and walk-in clinics
These clinics are privately owned, separate from Fraser Health.

Please contact your doctor's office to get more information on how to access an interpreter. Note: you may need to pay for an interpreter if one is available.

You can try to find a doctor who speaks your language by asking friends or family. You can also search the College of Physicians and Surgeons of B.C. Select your language from the drop-down list by selecting the 'switch to advanced search' option.

If you cannot find a doctor who speaks your language, try to bring a trusted friend or family member who can interpret for you at your appointment.