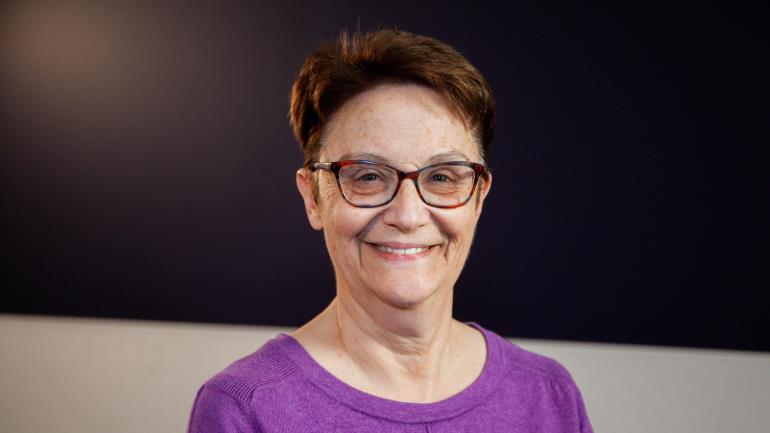 Steadfast and visionary leader, Dr. Eddy, improved palliative patient care by bridging gaps between family doctors and care teams while offering patients respect, comfort and support.
Palliative care physician, Dr. Joan Eddy, feels assisting patients and families to find peace through end-of-life care is very gratifying. She has a reputation for being compassionate, empathetic and a great listener - never rushing patients or families during meetings and always available to mentor her team.
With a career spanning 39 years, Dr. Joan Eddy, palliative care physician, Eagle Ridge Hospital and Tri-Cities Region, is a well-known and respected leader of the Tri-Cities Palliative Care Team in Fraser Health.
During her 22 years as a family doctor in the Tri-Cities area and five years as a hospitalist at Eagle Ridge Hospital, she found assisting patients and their families to find peace through end-of-life care to be very gratifying. After transitioning to full time palliative care in 2009, she realized she had found the job she truly loved.
"Patients often feel lost when receiving a diagnosis of a life-limiting illness," says Dr. Eddy. "Seeing the difference one can make by just listening, being kind and respectful is amazing; it is a privilege when patients and families share this intimate journey."
Since joining the Tri-Cities Palliative Care Team Dr. Eddy has worked to develop a cohesive team that prioritizes patient care and values each team member's opinion. Through communication and education, she's turned palliative care into shared work instead of specialist work. This has both increased the team's capacity and improved patient care.
"Before Dr. Eddy, there was the idea that end-of-life care could only be done by a palliative care doctor," says Dr. Fify Soeyonggo, palliative care physician for Tri-Cities and Eagle Ridge Hospital. "She's helped people understand that palliative care is not a specific person, team or place; it's an approach to ensuring patients are comfortable and supported in whatever way needed through their final stages in life – and it's something the whole care team can be part of."
Through knowledge sharing and relationship building, Dr. Eddy empowers all members of a patient's care team to take a role in palliative care. She has mentored new palliative care doctors and bridged gaps between family doctors, palliative care nurses and other members of the care team to get the best result for the patient and their families
Dr. Eddy's colleagues describe her as a visionary leader and a steadfast colleague who is able to skillfully solve any problem. They praise her for her compassion, empathy and listening skills, highlighting that she never rushes patients or families during meetings and is always available to her team.
"She treats everyone as equals, which makes her very approachable and therefore easy to learn from," says Hermia Lee, palliative care clinician for Tri-Cities and Eagle Ridge Hospital. "She is always checking in on the team and doing kind things such as bringing in food to ensure her co-workers are eating. She puts everyone before herself. Her generosity and level of caring inspires everyone around her to want to do and be better."
Dr. Eddy is known for going beyond her duty, from hand delivering medications to homebound patients, to attending late night house calls. Colleagues would often find her in the hospital units late into the evenings, staying well after her shift had ended, to ensure a patient's comfort.
"One night she stayed with her patient until three a.m. to ensure they were properly settled," recalls Lee. "She is so well respected in the community that the local pharmacy stayed open after hours to allow her to get her patient's medication."
During COVID-19, before vaccines were available, Dr. Eddy was adamant about seeing her patients in person and taking whatever precautions necessary to make that happen. As more patients were choosing to have end-of-life care at home, she advocated for the palliative care team to have iPads so they could continue to have that important face time with their patients and patients' families. "She understood the importance of enabling our palliative care patients to see the faces of their care providers – that connection is so important," explains Lee.
"Dr. Eddy is an amazing physician, colleague and friend. She always comes through for her patients and community. Despite her accomplishments and accolades, she remains one of the most humble and kind people I know," says Dr. Soeyonggo. "Her commitment to care for her patients in the home or hospital pushes our whole team to make the same commitments."
When Dr. Eddy retires later this year, she will leave a lasting legacy in the landscape of palliative care at Fraser Health. In the meantime, she offers some words of wisdom to others working in palliative care: "Strive to treat patients as individuals and not just as a diagnosis. Provide the excellent care that you would wish for yourself or a family member. Value and respect all team members' opinions."
Congratulations to Dr. Joan Eddy on this well-deserved Above and Beyond Fraser Health Care Hero Award.