We are currently experiencing a late-season increase in influenza A (H3N2)
Key messages
We are currently experiencing a late-season increase in influenza A (H3N2)
Vaccine effectiveness against influenza A (H3N2) viruses is lower compared to influenza A (H1N1) or influenza B viruses
Early initiation of antiviral medications is recommended for patients with suspected influenza at high risk of complications
Recent influenza activity
A late-season surge in influenza A (H3N2) began in the last week of February (Figure 1). We anticipate that it will continue for several more weeks. For further information, see the BC Influenza Surveillance Bulletin.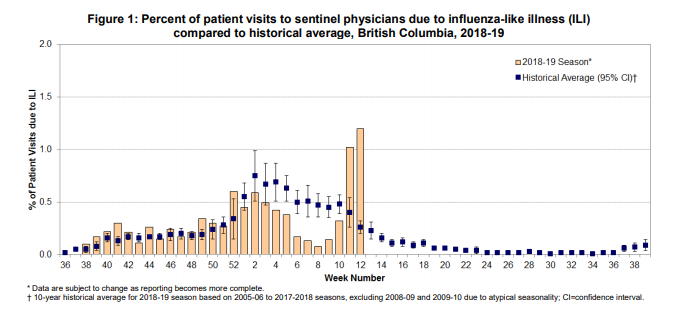 Influenza A (H3N2)
H3N2-predominant seasons are typically associated with more hospitalizations and deaths in people aged 65 years and older. Influenza vaccine effectiveness against influenza A (H3N2) viruses is generally lower compared to influenza A (H1N1) or influenza B viruses.
Antiviral treatment
Given the late-season increase in H3N2 this season, please:
Keep influenza on the differential, and consider antiviral treatment for high-risk patients with suspected influenza including patients with chronic medical conditions, those aged 65 years or older, Aboriginal Peoples, and pregnant women or women up to 4 weeks post-partum.
Antiviral medications are most effective when started within 48 hours of symptom onset. It is not necessary to wait for laboratory confirmation.
Circulating influenza strains are susceptible to both oseltamivir and zanamivir.
Antiviral treatment is not routinely recommended for adults at low risk of complications. Children under 5 are at increased risk for complications, however, antiviral therapy is not routinely required for children with mild or uncomplicated illness and no other risk factors for severe disease. For more information, see the antiviral use guidelines from AMMI Canada.
---
The Fraser Health Medical Health Officers are available for medical consultations at 604-587-3828 or 1-877-342-6467 (M-F, 0830-1630 hrs) or after hours at 604-527-4806.
Medical Health Officer
Fraser Health
400 – 13450 102nd Avenue
Surrey, BC V3T 0H1
Tel:

(604) 930-5404
Fax:

(604) 930-5414