Information on wildfire smoke in the summer season.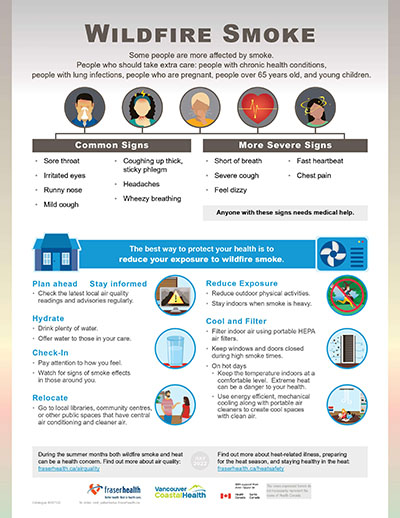 Wildfires are becoming more frequent and more severe as the climate changes, resulting in poorer quality air that can last for weeks or more. This can result in short-term health effects and longer lasting health effects. We are still learning about the full effects of air pollution on our health. Reducing exposure to wildfire smoke is the best way to protect your health and those around you.
Air quality impacts us all. However, some people are especially vulnerable to the health impacts of wildfire smoke. These include:
Pregnant people
Infants
Young children
Elderly people
Those with conditions like asthma, heart disease or diabetes
Please call 8-1-1 or check with your family practitioner, if you have one, if you experience these mild symptoms related to wildfire smoke and have questions:
Sore throat
Eye irritation
Runny nose
Mild Cough
Phlegm
Wheezing
Headaches
Seek medical care right away if someone has these symptoms during smoky conditions:
Shortness of breath or difficulty breathing
Sudden or severe cough, or irritated airways
Dizziness
Chest pain or discomfort, or heart palpitations
Immediate Actions
Know your risk. Exposure is a greater concern for infants, pregnant people and older adults. People with certain medical conditions (diabetes, and lung or heart disease) can also be more strongly affected. It's important for these people to stay in air-conditioned spaces, or places with cooler filtered air.
Stay cool and drink plenty of fluids.
Use common sense for outdoor physical activity. If your breathing becomes difficult or uncomfortable, stop or reduce the activity.
When air quality is poor, consider rescheduling outdoor events and sports
Use high efficiency particulate air (HEPA) filters. These can improve indoor air quality near the device.


If you can't purchase a filtration system, a home-made box air filtration system can still help.
If you do not have access to these, seek out community spaces with cool air. Examples are libraries, community centres or shopping malls.

If you are working outdoors, use an N95 respirator. It is recommended to use one that has been properly fitted by occupational health and safety professionals.
Activate your asthma or personal care plan if you have asthma or other chronic illnesses. If you do not have an asthma or personal care plan for air quality events, talk to your health care provider.
Reduce indoor pollution by not smoking or burning items.
Reduce outdoor pollution by taking transit, carpooling and avoiding using diesel powered equipment.
Start preparing for next season now. The best way to protect yourself from smoke is to plan well before the smoke arrives.
Monitor and Prepare
The Air Quality Health Index tool
The Air Quality Health Index (AQHI) is a tool designed to help people understand how air quality can affect their health, and how they can protect themselves when air quality is poor. The index is based on measurements of fine particulate matter (PM2.5) and other pollutants in the air, and is reported across B.C. Learn more about how the index is calculated from this BC Centre for Disease Control (BCCDC) fact sheet.
You can use the AQHI to plan activities, especially if you or others are more sensitive to impacts of poor air quality. If the AQHI is moderate to high in your region, you can take protective actions for yourself and others.
Further resources to prepare for and stay healthy during wildfire events or general air quality advisories:
Health information resources
Preparation resources
Resources for during an air quality event