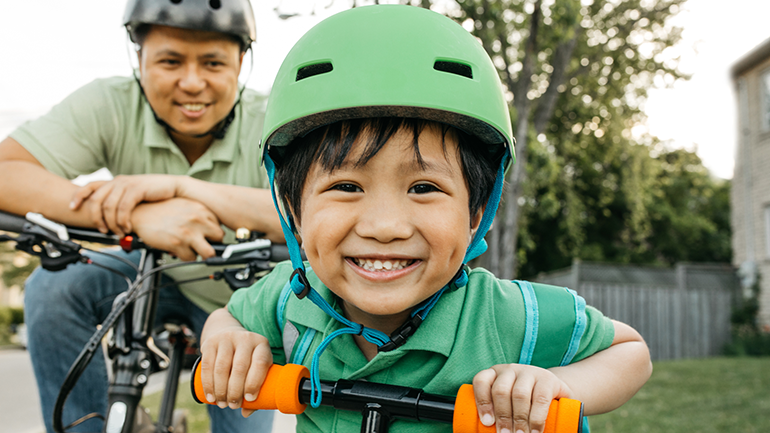 Six road safety tips to keep your children safe while biking.
As the weather gets warmer, biking is a great way to exercise and spend quality time with your family. Follow these helpful bike habits and tips for a safe ride.
Protect their heads with a helmet. A properly fitted and correctly worn bike helmet can prevent the risk of serious head injury.
Follow the 2-V-1 rule to find a properly fitted helmet.

Two fingers above your eyebrow.
Straps form a 'v' under your ears.
One finger space between strap and chin.

Before you leave check their ride.
Make sure:

Bikes are adjusted correctly for their height.
Tires are properly inflated.
Brakes are working properly.

Teach them the rules of the road.

Learn the hand signals for stop, right and left-hand turns and teach them to your kids before heading out.
Obey all traffic signs.
Dismount before crossing the street.

Take family-friendly routes.
Use these routes as a great option for less experienced riders so they can build confidence and skills in a safe environment.
Bike in single file with your children following your lead. Coach them to repeat your hand signals.
Ride in the same direction as traffic.
Always ride on the right side of the road, going in the same direction as traffic. This will make you more visible to drivers who will be able to see your hand signals.
Make sure you're seen and heard.

Wear bright, reflective clothing.
Equip your bike with flashing lights and reflectors.
Use your voice or a working bell to gain the attention of other riders or pedestrians around you.