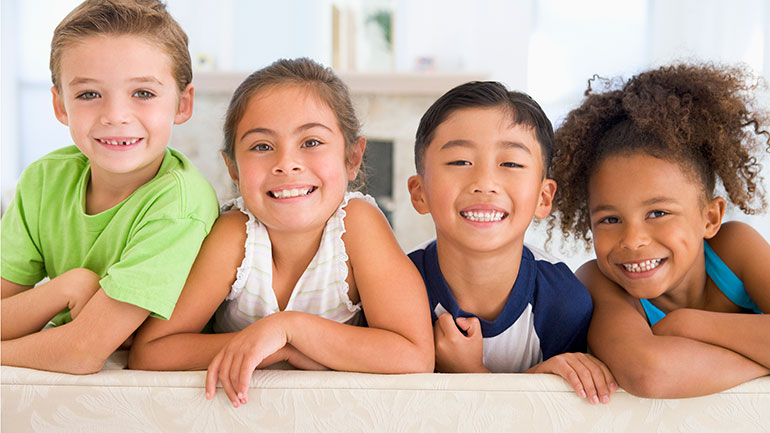 Introducing good oral health habits early in life could mean children in your community will have better oral and overall health, their whole lives.

Early childhood caries, better known as cavities or tooth decay, is the most common childhood, infectious disease and it is preventable.
Cavities can begin soon after a baby's first tooth appears. They can cause severe pain and infection and disrupt eating, sleeping and proper growth. They can also affect the ability to socialize, concentrate and learn and compromise a child's overall health.
Because our communities do not have fluoridated water, it is very important that parents and families with young children practice good oral care.
What can parents do?
Before child has teeth, clean mouth daily with a clean, damp washcloth.
Never put your baby to bed with a bottle or sippy cup of milk or any sweet drink.
Schedule a dentist visit within 6 months of the first baby tooth or by one year of age.
Floss child's teeth (once they're touching) and your own teeth once a day. Brush at least twice a day with fluoride, including before bed.
Introduce a healthy diet early to prevent tooth decay.

Fruits and vegetables with fiber like broccoli and apples can balance natural sugars and clean teeth.
Water is the most tooth friendly drink. Sugary drinks like pop and juice are the leading risk factor for tooth decay.
Sugary and refined snacks, like cakes, cookies, potato chips, gummies, and granola bars should be avoided for daily snacks. Save them as a once in a while treat or a mealtime dessert. Give healthy fresh snacks instead.
What can community partners do?
Caregivers can join education sessions on children's dental health provided by Fraser Health. (see the calendar of events for upcoming sessions)
Schools and daycares can revise guidelines to reduce sugar intake.
Schools and daycares can assist young children in brushing their teeth.

For age up to 3, a rice size amount of toothpaste should be used.
For age 3-6, a pea size amount of toothpaste should be used.
Fluoride is a cavity fighter! Whether in the water, applied during a dental visit, or used while brushing, fluoride makes teeth stronger and provides protection against cavities.
What is Fraser Health doing to improve childhood dental health and lower tooth decay rates in your community?
At Fraser Health, we take childhood dental health very seriously. Our Public Health Dental Program's goal is to help prevent early childhood tooth decay. The program mainly serves children ages 0 - 3 and especially those at risk of tooth decay. Urgent referrals for any age group are accepted from school staff or community workers. Also, we continue to work with community partners to support adults with dental problems.
Three special programs are run through the Public Health Dental Program:
Fluoride Varnish Program is a free program offered for children under 36 months of age not under the regular care of a dentist. Public Health Dental staff check if a child is at risk for tooth decay. If so, the caregiver is provided dental health counselling and the child will have fluoride varnish applied to teeth. Dental staff also provide families with information on dental treatment resources that are available.
Education sessions on children's dental health are offered to groups and individuals. Sessions are open to parents and community professionals who work with young children and families.
Fraser Health and The Faculty of Dentistry at UBC have partnered to provide free dental treatment for children 12 years and under. This service is for children who cannot access a dentist due to financial barriers.
For more information on affordable dentistry options, dental anxiety and oral care for your child please go to the main dental health for children web page.
Percentage of kindergartners with cavities (tooth decay) in Fraser Health
Every three years, BC Kindergarten children have their teeth checked for cavities. We wanted to share how our region is doing. Please see the links to the maps below.
Each local health area map shows the percentage of kindergartners with current or previous cavities in different neighbourhoods for the 2015/16 school year. The darker the colour of the neighbourhood, the higher the percentage with cavities. In BC overall, 30.9% of kindergartners had current or previous cavities, and in Fraser Health the percentage was 32.5%. Cavities are preventable, so promoting good oral habits in children, families, and communities can make a difference.
Agassiz-Harrison and Hope