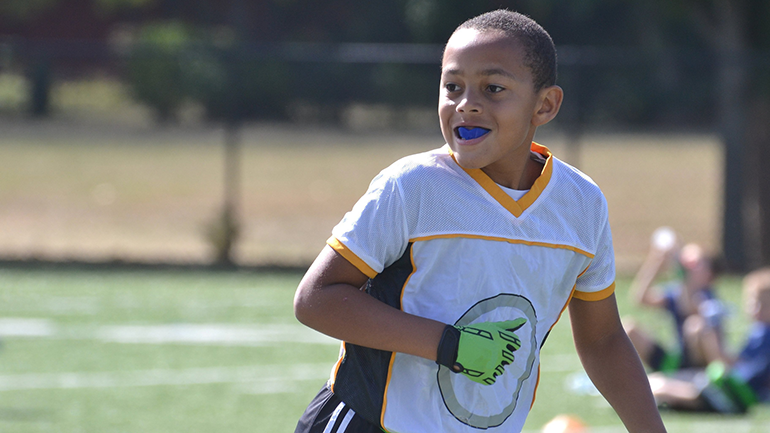 Using a mouth guard during sports can prevent dental and jaw injuries.
What is a sport mouth guard?
A mouth guard is a U-shaped piece of plastic that fits between the upper and lower teeth. A mouth guard is designed to protect the teeth, gums, soft tissue and surrounding bone.
Should I get a sports mouth guard for my child?
Yes. Before your child starts a new sport or exercise activity, it is important to choose the correct safety gear, and that includes choosing a mouth guard.
The Dental Association recommends mouth guards for the following sports:
| | |
| --- | --- |
| acrobatics | skateboarding |
| equestrian events | surfing |
| ice hockey | Baseball |
| shot put | field events |
| squash | lacrosse |
| American football | skiing |
| extreme sports | volleyball |
| inline skating | basketball |
| field hockey | martial arts |
| skydiving | water polo |
| bicycling | gymnastics |
| racquetball | soccer |
| weightlifting | boxing |
| handball | rugby |
| softball | wrestling |
What types of mouth guards are available?
There are different types of sports mouth guards to choose from and they vary in comfort and cost:
Pre-formed "stock" mouth guards will offer some protection but may feel bulky and can make talking and breathing difficult. These mouth guards must be clenched between the teeth at all times. They are sold in most sporting goods stores.
"Boil-and-bite" mouth guards are made of a thermoplastic material that softens when boiled and will mould around the teeth when the child bites down on the softened plastic. Boil-and-bite mouth guards are less bulky than stock guards and are often more comfortable. These guards are also available in sporting goods stores.
Custom-fit mouth guards are supplied by dentists and specially crafted to fit your teeth exactly. They are also made from a thermoplastic material. These sport guards offer the best fit and comfort.
How do I know if the child's sports mouth guard fits well?
It should be thick enough (4 mm) to provide protection against impact with a snug fit.
While wearing the sports mouth guard, your child should be able to breathe and swallow normally. It should also allow for normal speech.
How do you take care of your child's mouth guard?
Make sure you or your child:
Rinse sports mouth guards before each use, and brush with a non-abrasive toothpaste after use.
Clean periodically with soapy water and rinse thoroughly.
Carry it in a container with vents.
Bring the sports mouth guard to dental visits to check for proper fit. The mouth guard may need to be replaced if your child's jaw changes or they get adult teeth in.