Four simple guidelines for families to make healthier choices.
Live 5-2-1-0 is a healthy living and eating initiative that makes it easier for children, youth and families to make healthier choices. It gives four simple guidelines for kids and families to follow:
5: Enjoy - FIVE or more vegetables and fruits every day.
2: Power down - No more than TWO hours of screen time a day.
1: Play actively - At least ONE hour a day.
0: Choose healthy - ZERO sugary drinks.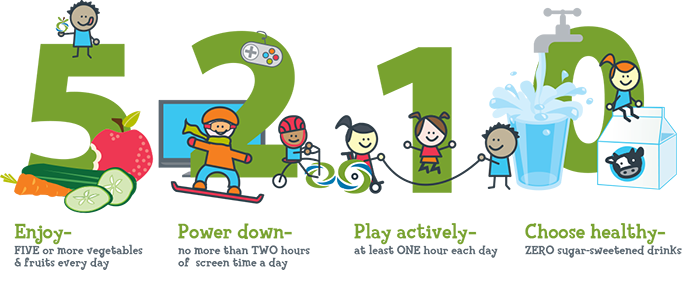 Why are we hearing about Live 5-2-1-0?
Maybe you've seen or heard about Live 5-2-1-0 at school or a recreation centre. Or you've used a Live 5-2-1-0 playbox at a local park. It's not just a message for parents to follow. The key to its success is that it involves the whole community – parents, families, teachers, local governments, parks and recreation groups, health professionals and even private businesses – all working together to make changes that support making the healthy choice the easy choice in our communities.
How can I help my child Live 5-2-1-0?