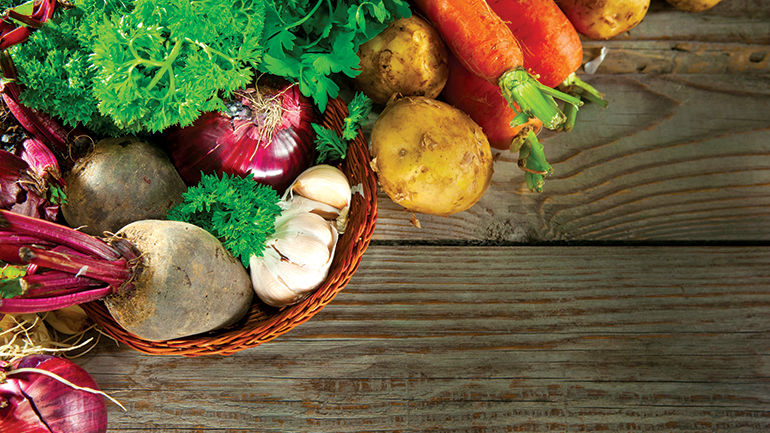 Just because you're not sure what to do with them, don't miss out on the nutritional punch in root vegetables this fall.
As some of the most nutrient-dense vegetables in the world, root vegetables are abundant during fall, making now the perfect time to introduce these plant powerhouses into your meal planning repertoire. The list comprises yams and sweet potatoes, parsnips, beets, onions, garlic, potatoes, carrots and radishes, along with spices turmeric and ginger.
Fraser Health registered dietitian Jane Wark wants you to understand the health punch these gloriously coloured veggies pack. Because they grow underground and absorb minerals and vitamins from the soil, they are packed with antioxidants, vitamins (A, B and C), along with complex carbohydrates and fibre which help to regulate blood sugar levels as well as your whole digestive system.
Buy root vegetables that are firm, without soft spots or blemishes. In the past, they were stored in the root cellar, a dark, cool, humid space, but today you're more likely to use the fridge. Cover and seal them in plastic or paper and place them in a drawer so they won't go soft. Don't refrigerate onions (except shallots and green onions) or potatoes.
Root vegetables are versatile in the kitchen as some can be eaten raw (raw turnips and carrots are delicious), while others can be sautéed, steamed or roasted. A quick web search will turn up numerous recipes for root vegetables. When cooking a variety of them, be sure to include a few orange ones in the mix – orange yams, sweet potatoes and carrots, for example – to maximize the meal's nutritional value, not to mention its visual appeal.
Along with your root vegetables, remember to include a leafy green salad, and/or some Brussel sprouts or broccoli with your meal to ensure you get some dark greens, which are great sources of fibre and folate along with vitamins C and K.
Now that we know they're nutritious, what simple, family-approved recipe will have everyone coming back for seconds? Here's a favourite recipe of Jane's to get you started:
Preheat oven to 425°.
Thinly slice several potatoes, sweet potatoes, and other root vegetables, or cut into sticks.
In a large bowl combine 30 ml (2 tablespoons) of vegetable oil and a choice of seasonings such as oregano, basil and thyme (about 1 tsp.). If you like spicier food, add cayenne and chili powder.
Sprinkle with salt and pepper. Add the vegetable mixture. Toss to coat.
Spread in a single layer on a baking sheet and bake 30 to 45 minutes or until crisp and browned. With a flipper turn the vegetables every 10 to 15 minutes.
This article was originally published in the Healthier You Fall 2016 magazine. Check out the issue here (best viewed in a Google Chrome or Firefox browser).