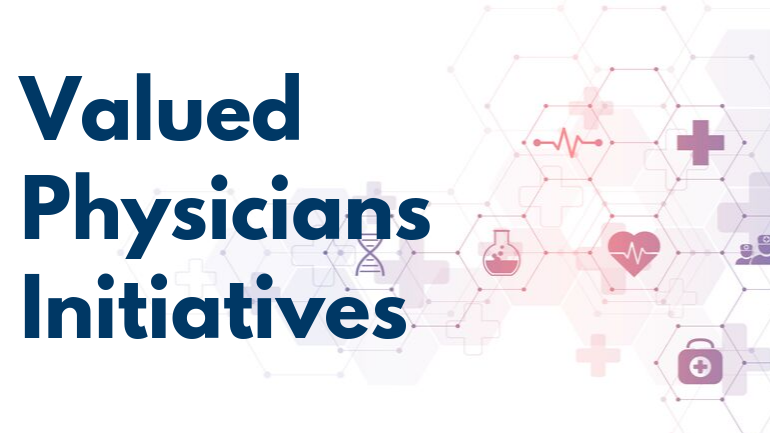 The Fraser Health Together framework names 'Medical staff engagement, performance enhancement and leadership development' as one of our 22 operational priorities for this year.
We will continue to advance our relationship with physicians to enhance patient care, increase efficiency and improve physician satisfaction and retention.
Working together with physicians, we are creating a multi-part program to attract physicians to Fraser Health, support them as they begin their practice, provide them with tools to enhance their performance, develop their leadership skills, and provide a clear path to becoming a physician leader. The work is under the umbrella of "The Valued Physician Initiative."
Action has commenced in five key areas:
Area #1 – The Health Human Resources Plan for physicians is nearing completion for 2019-24. This plan determines physician staffing needs over the next five years and includes evidence-based recruitment strategies focusing on service areas where gaps are anticipated.
Area #2 – We have created and started to disseminate periodic physician activity reports in three service areas – MHSU, Family Practice, Emergency Medicine – to provide feedback to each physician on their activity. Individualized activity reports for hospitalists will be launched soon. These will be followed by all other services developing custom reports based on what is meaningful to their members.
Area #3 – We have outlined a new physician orientation and onboarding process, soon to be prototyped with 300 physicians across Fraser Health, to ensure physicians feel valued, welcomed, and are effectively integrated into the health care team.
Area #4 – To develop potential physician leaders we have delineated a physician leadership development pathway for both experienced and new physicians; soon to be piloted. Some physician leaders have commenced work on their 360 performance reviews and My Journal to receive feedback on the effectiveness of their leadership while documenting their goals and associated action plans.
Area#5 – We have defined a succession planning process for physician leaders to build physician leadership capacity at Fraser Health.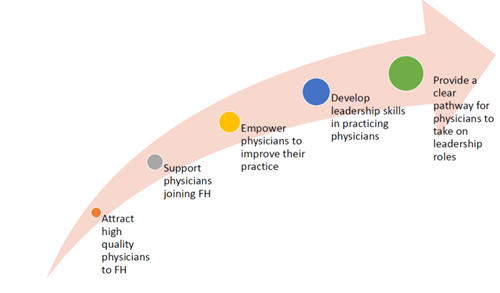 Contact me if you have any questions about this initiative.