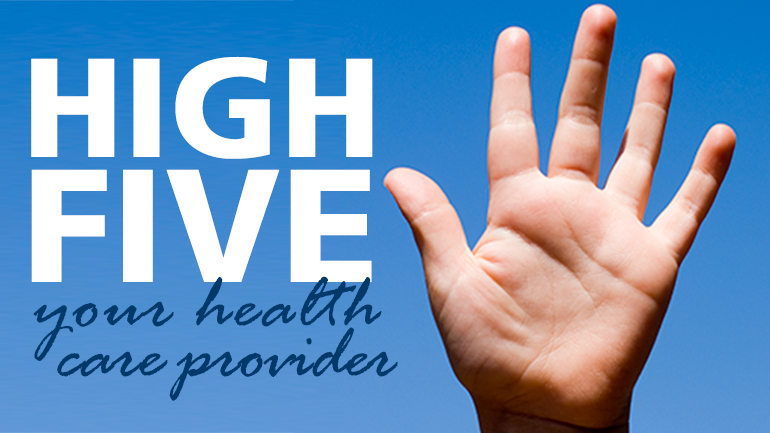 This week's high fives go to our amazing people at Home Health, Chilliwack General, Langley Memorial, Abbotsford Regional, Surrey Memorial and Ridge Meadows hospitals.
I just wanted to send of note of appreciation to Doctor Karanne in Chilliwack General emergency who took care of my Dad. She was compassionate and thorough in her examination. She answered all the questions my mother and I had, and thanks to a quick and accurate diagnosis my father went from totally incapacitated one day to almost back to himself (albeit weak) the next day. That was a huge relief for my mom and I. Thank you!
---
I hope you do not mind if I take your time to praise the staff at the Langley Memorial Hospital Surgical Day Care. I attended the Surgical Day Care centre at 6:30 am Thursday, March 30th. All the staff and physicians I came in contact were friendly and informative.
But of all the people I came in contact with, one individual stood out as a great representative of the area and a caregiver. I want to give a special compliment to Michelle (hopefully, only one Michelle was working that day) who greeted us on arrival. She was friendly, perky and best of all tolerated my sense of humour. Great start to an otherwise potentially stressful morning. Michelle also provided most of my patient care in the centre. She took the time the explain everything that was happening or was to happen. She was cheerful, friendly and compassionate at all times and made a huge difference to my experience. From all impressions, she truly cared about the work she was doing.
Thank you!
---
I wanted to connect with you as I recently had the opportunity to visit your emergency department march 25th – 27th at ARHCC with what we now know was viral meningitis, however, we did not know that then.
I had the unique experience of being a well-experienced RN and being a patient, which I do not do very well, and as you probably know, people in the trade can often be the most critical of service…. I have to share with you the wonderful, efficient and caring experience I received from the moment I saw the triage nurse to being discharged. Your team individualized my care from the moment I walked in. From ensuring the lights were off while assessing me, to making sure that I had a cold pack for my head and medications as I needed. I was truly 'spoilt' for service and care. The doctors were polite, thorough, caring and always ensured I understood and consented to any treatment, the nurses were loving, supportive and responsive to my needs… I could not have wished for better service.
Please share with all involved to let them know what an amazing service they are providing.
---
Hi there,
I would just like to say how amazing the staff were in both emergency and on the ward when my mother was needing medical care. Emergency was full and she had to have her bed in the casting area until a bed was available for her on the 3rd floor. The staff - all the care aids, the nurses and the doctors were amazing to both my mother and to me and all my visits. They kept me informed and kept my mom comfortable through her whole stay from start to end. Dr. Li or Dr.Lee (not sure of proper spelling ) but he was the hospitalist that worked with her. He took time out of his schedule to call me and inform me of all her updates and tests and the whys. The girls on the 3rd floor were absolutely wonderful and kind.
I have had a couple surgeries at this hospital and have always been treated well but watching my mom being treated so well in her 80s warmed my heart
Thank you so much.
---
Just wanted to express our families thank you, for the medical care given to my step- father in his final days.
The staff in Emergency, A43 and A41 were all amazing.
And thank you to the staff and social workers in ICU that participated in his last moments and showed such kindness towards myself and my mother.
---
I want to compliment the Fraser Health system for the exceptional care given to my father from Magnolia Gardens Langley after his fall on March 22nd, 2017. The paramedics and the emergency nurses provided excellent service throughout Dad's overnight stay at Langley Memorial Hospital. I was very impressed by the geriatric head nurse's phone call to me the next morning as she thoroughly grilled me about Dad's health, abilities and ongoing care. Shortly after that, I received a phone call from the Fraser Health home nursing care coordinator and was again amazed by the direct and explicit questions to make sure that dad would be taken care of when he was back home. A care plan was put in place for two weeks to assist dad's recovery. At this point, I also want to commend the many different nurses who have treated and bandaged Dad's legs and feet. I think Dad's last count was 37. Everyone has not only treated his wounds but have engaged him in conversation and have exemplified what care really means. I know that people are always more likely to complain than compliment, so I just wanted to tell you all thank-you very, very much for all your hard work and your caring attitude.