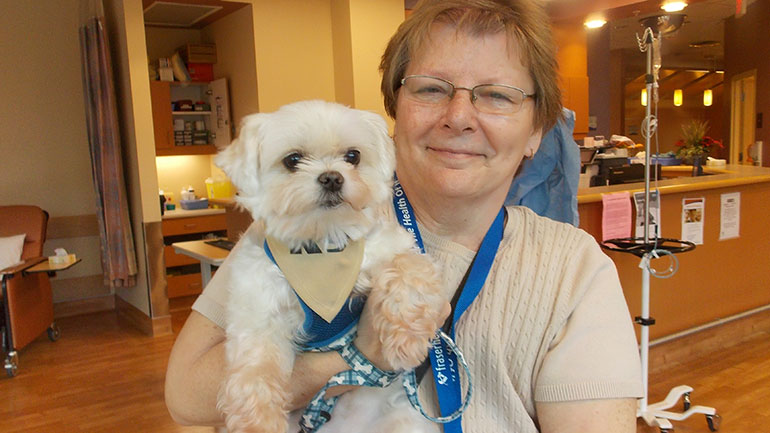 This National Volunteer Week we celebrate the incredible contributions of Fraser Health's more than 8,000 volunteers. Read the moving story of why one patient decided to give back.
When Susan Morin was a patient at Ridge Meadows Hospital in 2009 and was being treated for breast cancer and related surgeries, a pet therapy volunteer would often stop by during her chemotherapy sessions, which made her day.
"I loved the visits," recalled Susan, who is currently in remission and remains an outpatient at the hospital. "I vowed that when I got better I would volunteer in some way. I received wonderful care at Ridge Meadows and welcomed the opportunity to 'give back.'"
And she has. Today, Susan is a volunteer with Ridge Meadow's Code K9 Pet Visitor Program. She visits patients with a little white dog named Teddi, bringing joy into their day. Together they visit a variety of units within the hospital including the rehab area, the cast room, IV therapy, oncology, X-ray, ultrasound, lab areas, the mental health unit and several of the waiting rooms.
"I find that staff and visitors get as much benefit from seeing Teddi as the patients do," Susan explained.
In Fraser Health, there are 8,000 volunteers just like Susan who generously donate their time to enhance the experience of our patients, residents and clients. During National Volunteer Week we celebrate their contributions to our organization and to the care of our patients.
For many people, the first person they encounter when accessing services within Fraser Health is a volunteer. The roles that volunteers take on are as varied and unique as the volunteers and the communities they serve. They provide services across many programs in hospitals, residential, and community health settings.
And they make a real difference to individual patients. Susan shares that on one of her visits a few months ago, she walked into the mental health unit to find a woman was sitting in a chair sobbing uncontrollably. She motioned that she wanted to see Teddi and so Susan placed him on her lap and he climbed up her chest and licked the tears from her face
"She held him and said repeatedly, 'I'm okay little dog,'" Susan recounted. "After a few moments, she calmed right down and thanked me for bringing him to her when she needed him most. I had tears as well and told her that Teddi knew just what to do."
When recruiting volunteers for Fraser Health programs, it's important to remember that today's volunteers want flexible schedules and tend to be looking for short-term opportunities that will use their skills. This can be challenging in the health care environment where schedules and routines are so important and the recruitment and orientation process can take many hours. Cultural sensitivity and a welcoming and inclusive environment will attract volunteers so this must be incorporated into all of our program development, recruitment and orientation materials.
One of the most critical factors in volunteer success is ensuring that volunteers like Susan know the impact of the work they do. Thank you Susan and Teddi and thank you to all of our Fraser Health volunteers for all you do for our patients, clients, residents, staff and community.