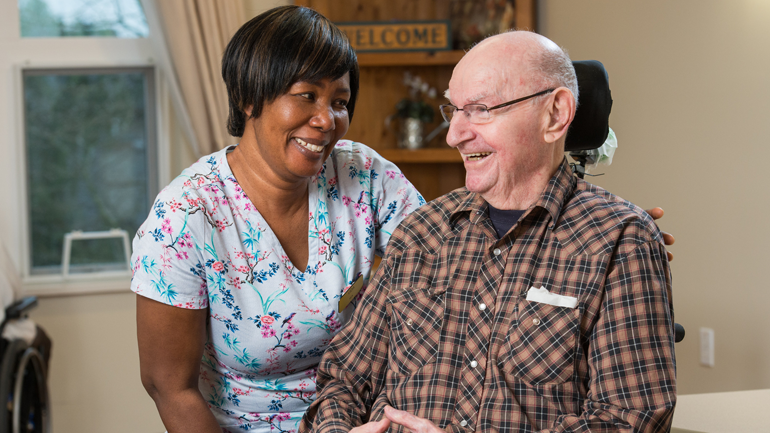 An innovative screening tool will help reduce transfers to the emergency department from long term care by 71 per cent.
SURREY – The Canadian Foundation for Healthcare Improvement and Fraser Health today announced that they are fast-tracking the regional spread of an innovative screening tool that reduced transfers to the emergency department (ED) from long term care by 71 per cent. This rollout will establish the PREVIEW-ED© tool as standard practice in all 80 Fraser Health homes, reaching 8,063 seniors, and will pave the way for the tool to be spread across Canada later in 2017.
"Treating residents in their homes, which includes long term care, rather than transferring to emergency departments reflects our commitment to support people at the community level, whenever possible," said Health Minister Terry Lake. "We know that hospitalizations can sometimes result in serious or fatal complications, so we're pleased with the success this tool has shown to keep residents out of hospital."
PREVIEW-ED© helps long term care staff detect early health decline among residents related to four conditions: pneumonia, urinary tract infections (UTIs), dehydration and congestive heart failure (CHF). UTIs and pneumonia are among the most common reasons for avoidable ED visits by residents. The tool measures the signs, symptoms and severity of nine indicators using a simple scale that allows the users to score each indicator and generate an aggregate score to quantify the change. The one-page tool takes between eight and 15 seconds to administer by care aides as part of their regular duties.
"The PREVIEW-ED© tool improves both the experiences of providing care and receiving it. The tool gives care aides a mechanism to communicate changes they notice in residents in order for professional staff to intervene earlier," said Michael Marchbank, President and CEO, Fraser Health. "This is an excellent way to raise the voices of care aides, who are intimately involved in the daily lives of residents in long term care."
Care aides provide the majority of direct care and therefore are ideally positioned to notice subtle changes in a resident's health status. If the tool scores higher than 0, the care aide informs the registered staff, who then completes an assessment of the resident and intervenes as required.
"Across Canada, one-in-three emergency department visits by seniors living in long term care is potentially avoidable," said Maureen O'Neil, CFHI President. "By working with Fraser Health to adopt PREVIEW-ED© across its homes, we're demonstrating that this innovative tool can help organizations nationwide improve care for older Canadians and we look forward to collaborating with these innovators."
Fraser Health piloted the tool in four long term care homes from February to June 2016. After seeing a significant reduction of transfers to EDs, in September 2016, Fraser Health partnered with CFHI to spread the innovation to 40 additional homes. The rollout to the remaining 40 long term care homes within Fraser Health began in January 2017 and will be fully implemented by the end of March 2017. The testing of this tool in Fraser Health will provide proof of concept that will enable CFHI to launch a pan-Canadian spread initiative later this year.
"Since PREVIEW-ED was implemented, every time we notice something different with a resident, the numbers from the tool support our observation. Then we can discuss what to do as a team, and the nurse will follow up," said Amie Palermo, long term care aide.
PREVIEW-ED© is particularly well-suited for use with people who have dementia since the tool includes signs and symptoms for mental state such as new agitation, participation in social activities and evidence of new confusion. Many residents with dementia are unable to express their concerns verbally. The tool was developed with input from family members, and provides a mechanism for communication and discussion between the care team and the family since results over time can help illustrate how a loved one's condition may be changing when they are unable to communicate themselves. In this way, the tool benefits not only the individual, by avoiding unnecessary trips to the ED and triggering changes to their care plan, but it helps family members understand and plan for their loved one's care.
PREVIEW-ED© was developed by Marilyn El Bestawi through CFHI's EXTRA: Executive Training Program. CFHI is supporting the spread of the tool throughout Fraser Health through initial training as well as a collaborative approach that supports ongoing peer learning, education and training in topics such as quality improvement, change management, stakeholder engagement, measurement and sustainability.
The tool is currently being implemented in paper format. Fraser Health, together with CFHI, have received a Spark grant from the Canadian Centre for Aging and Brain Health Innovation to the design, develop and beta test an electronic version of the PREVIEW-ED© tool.
The Canadian Foundation for Healthcare Improvement is a not-for-profit organization funded by Health Canada. CFHI identifies proven innovations and accelerates their spread across Canada by supporting health care organizations to adapt, implement and measure improvements in patient care, population health and value for money. Visit cfhi-fcass.ca for more information.
The views expressed herein do not necessarily represent the views of Health Canada.
Media contact
For media inquiries, please contact:
Tamir Virani
Communications and Stakeholder Relations Officer
Canadian Foundation for Healthcare Improvement
T: 613-728-1318 x 232
C: 613-410-2617
E: tamir.virani@cfhi-fcass.ca

Fraser Health Media Number
604-613-0794
media@fraserhealth.ca