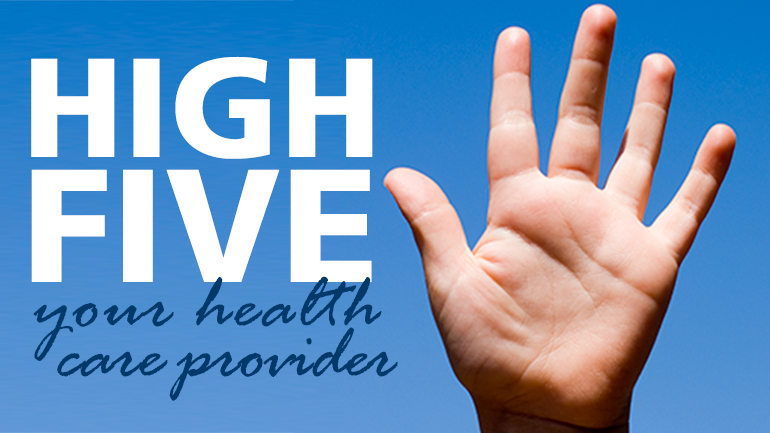 This week's kudos go to our amazing people at Ridge Meadows, Delta, Burnaby, Surrey Memorial, Royal Columbian and Abbotsford Regional hospitals, and Mental Health and Substance Use.
I was in emergency at Ridge Meadows Hospital for a back issue. Doctor Bartel and all the emergency staff that took care of me did just that. The doctor explained exactly what was happening and was very supportive. Many thanks again to the team, very professional. Well done.
---
My mom was recently a patient in 1 North at Delta Hospital and I would like to pass on a thank you for the care that was provided by everyone. I would like to pass on a very special thanks to Anna for the time and care that she showed to my mom.
---
I just needed to pass along my gratitude for the care I have received. I was admitted to the Burnaby Hospital inpatient unit. From there, Timber Creek and back to Burnaby Hospital. All the nurses were phenomenal! I could go on, but sadly I don't remember names. Then I went to Burnaby for mental health and addiction. Shortly after I met Dr. Jane Sun. This lady is an angel! She went way above and beyond to help me. She spoke to me as a person, not a patient. Aside from being very likeable, she is a true professional! If the world was full of Dr. Jane Suns, we would have a perfect world.
When admitted to the Royal Columbian Hospital inpatient unit, I received great care there as well. In January 2016, I started seeing Sherry Geroux and Dr. Chan (at New Westminster Mental Health). Sherry changed my entire existence! She was so good at getting through to me, dumbing it down for me and just using a very knowing mind. She knew what I was thinking! It truly was amazing! Dr. Chan has a very approachable demeanor as well. Just spending an hour with these ladies would make anyone feel better.
---
Just wanted to recognize a volunteer Carol (at Royal Columbian Hospital) who was travelling down the hall offering coffee and juice to people waiting in the hall in front of Respiratory. She was delightful and it instantly changed my perspective.
---
I had overdosed and was taken to Abbotsford Regional Hospital by ambulance. Not long after the incident, I entered a recovery centre and turned my life around. Today I am over three years sober, I'm married, own a home and have a six month old baby. If you saw me today, you would never have known my past.
A big part of my sobriety and a person I think about regularly was a nurse I woke up to. It's all a little fuzzy and there's no way I could remember her name or her face, but something she said to me runs through my head daily. I especially think about her each year my sobriety date rolls around and have wanted to write this letter since I became sober.
---
I would like to express my gratitude to Ridge Meadows Hospital (RMH) staff, Dr. Yeung and Dr. Raghavan for the care I received. The staff provided compassionate and professional care during my experience at RMH. I would like to acknowledge their work and attitude! Thank you!
---
I was transported to Royal Columbian Hospital emergency by ambulance. I received excellent care from both the paramedics and emerge personnel, eventually being admitted to the cardiac ward 2 North under Dr. Blackwell. The Cardiac team were very patient with my initial denial and gently educated me to my new reality. The experience was, on the whole, a very positive one and I wanted to pass on my admiration and thanks to all the staff involved with my stay.
---
My wife was recently hospitalized at Surrey Memorial and ultimately passed away. She was accorded the utmost respect and care. The Emergency Room staff were amazing in particular nurses named Marlene and Song. As well, I was kept completely informed of my wife's condition by the doctors and nurses. You have my praise and thanks.
---
The nurses (at Abbotsford Regional Hospital) I would give 10 out of 10. On my first night there was a code blue and a nurse by the name is Susie was working my unit. The man was rather a big man, she was moving every part of her body, saying to him "you are not allowed to do this, everything is going to be ok, help is on the way." Telling what was wrong and keeping him informed, help arrived and she told them "I got this" and she did, I guess it is against her rules to die on her shift. She did not stop doing what she was doing until he was out of danger, she walked over to a chair and fell into it by this time. What you have there is one of them special nurses, they are all very good but that one is special. The fact this man was dying was not even on the table as far as she was concerned. She saved his life because she never stopped.