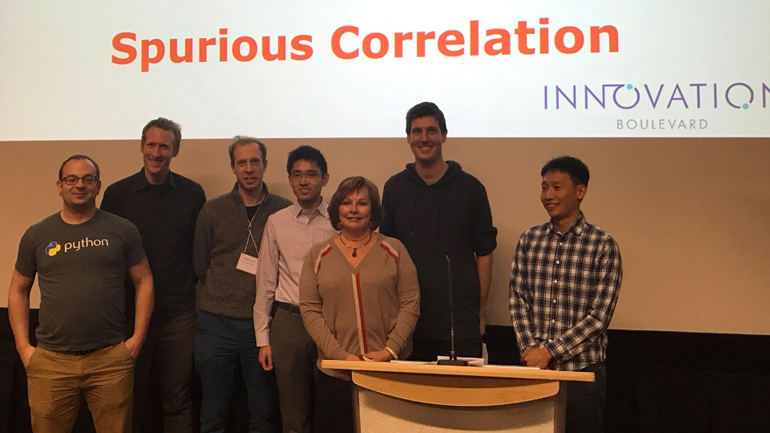 Team Spurious Correlations AI presented a clinical decision making solution to help shift resources from the hospital to community care.
What a weekend. Fuelled by collaboration and caffeine, brilliant minds came together January 21-22 at the Fraser Health Hackathon – a first for a B.C. health authority, held in partnership with Simon Fraser University, the City of Surrey and Innovation Boulevard with support from the Health Tech Innovation Foundation, UrbanLogiq, OpenDataBC and TELUS. More than 80 members of the local technology community gathered along with our own experts to find new solutions to some of health care's biggest challenges.
After two intense days of planning and development, 16 teams presented their prototype solutions to one of nine challenges. Three teams were awarded prize packages for creating solutions focused on:
Clinical decision making to help shift resources from the hospital to community care, from Team Spurious Correlations AI; and
Team Spurious Correlations AI presented a solution that used machine learning to find a relationship (a non-spurious correlation, if you will) between respiratory infection emergency room visits and changes in air pollution, weather and frequency of local Twitter and Google searches. Their model, which can be used for other types of illnesses, can forecast when spikes in respiratory infections are likely to occur and is visualised as an interactive map so users can identify gaps within their community and allocate resources accordingly.
The team knew immediately after reading the challenges that they wanted to create a data-driven decision making tool. They all had experience with solving problems through machine learning – a type of artificial intelligence that involves developing computer programs that can change when exposed to new data.
"From talking with the subject-matter experts we learned there was great interest in diverting patients away from acute services and towards community services," said team lead Michael Irvine. "This is aligned with the mission set forth by the Ministry of Health, which is packaged in what is called the 'primary care home' initiative."
"It was great to be able to combine machine learning and data science techniques and producing tools that can help decision makers be proactive in how to allocate resources," he added.
"It was my very first hackathon but it won't be my last. There's never been a better time to apply machine learning and computational techniques to tackling big data in health," said Patrick Tan, one of three team members who also works as an analyst in Health Business Analytics at Fraser Health.
Spurious Correlations and other solutions from the Fraser Health Hackathon will continue to be developed, and teams are being considered for an opportunity to collaborate further with Fraser Health and the Innovation Boulevard Health Tech Innovation Foundation. A 16-20 week incubator period will allow teams to engage with clinical and operational leadership to refine a solution before presenting it to Fraser Health's executive team.
"Health care contains some of the most interesting, diverse and complicated problems to solve. It also matters," said team member Matt Ptoma. "Instead of working for pure interest or academic reasons, real change can be made. By diverting CTAS 4/5 patients away from the ER, we would be allowing the ER staff to focus on more critical cases. That's what got me excited about it and the Fraser Health Hackathon."