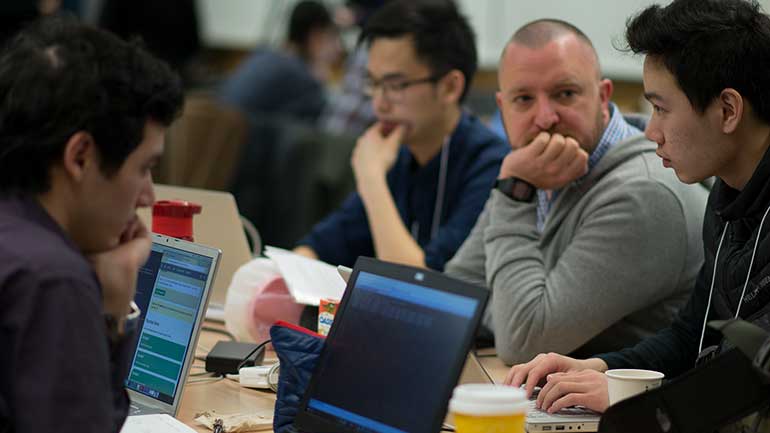 Daily challenges in the Fraser Health region are being approached with new, technology-driven solutions at the Fraser Health Hackathon.
SURREY – Daily challenges in the Fraser Health region are being approached with new, technology-driven solutions after more than 80 local developers put their minds together during the Fraser Health Hackathon this past weekend. Following two days of intensive work and deliberation, three teams were recognized for their efforts in creating solutions focused on the overdose crisis, clinical decision making, and supplementing a person's health record with information that could be of value to care providers.
Hosted in partnership with Simon Fraser University, the City of Surrey and Innovation Boulevard, with support from the Health Tech Innovation Foundation, OpenDataBC, and TELUS, the 16 teams were provided with access to publicly-available data as well as additional aggregate data that was carefully de-identified to safeguard against privacy concerns. In addition, Fraser Health mentors were on-hand to provide health care-focused guidance to participants as needed.
For their unique approach to clinical decision making in hospital Emergency Departments, Team Spurious Correlations was presented with the Innovation Boulevard: Health Tech Innovation Foundation prize package. The group created a web-based solution that accurately depicts in real time the volume of patients in Emergency Departments and doctors' offices throughout the region. The solution allows hospitals and doctors' offices to staff and prepare accordingly based on patient volumes and allows a person to choose the most appropriate site to obtain health care services for their needs. For their efforts, the group was awarded a $700 cash prize, two tickets to the upcoming BC Tech Summit and a professional business and financial plan review.
For their efforts in addressing the overdose crisis with an opioid overdose alert system, Team First Responders was awarded the TELUS prize package. Based on the data provided, the team created a solution that locates areas with high overdose rates in an effort to accelerate first response, increasing a person's chances of survival. The prize package includes a $1,500 cash prize from TELUS Health, a high-definition television, an opportunity to spend a full day with TELUS' Chief Dreamer and up to two sessions with TELUS Venture thought leaders to further develop their ideas.
Using an out-of-the-box approach to creating a digital personal health record, Team Care Crew was awarded the X-Factor prize featuring an opportunity to meet and dine with Fraser Health president and CEO Michael Marchbank. Care Crew is a cloud-based system that supplements a person's health information, including medications, dietary restrictions, reported health concerns, and other health information in a format that can be utilized and shared by Home Health care providers, general practitioners, hospital staff, and other health professionals a person may interact with on a daily basis.
In addition to the three award-winning teams, several other Fraser Health Hackathon teams are under consideration for a coveted opportunity to collaborate for 16 to 20 weeks with Fraser Health and the Innovation Boulevard Health Tech Innovation Foundation. During these sessions, the winning team will be able to engage with clinical and operational leadership to refine their solution before presenting it to Fraser Health's executive team.
Media contact
For media inquiries, please contact:
media@fraserhealth.ca