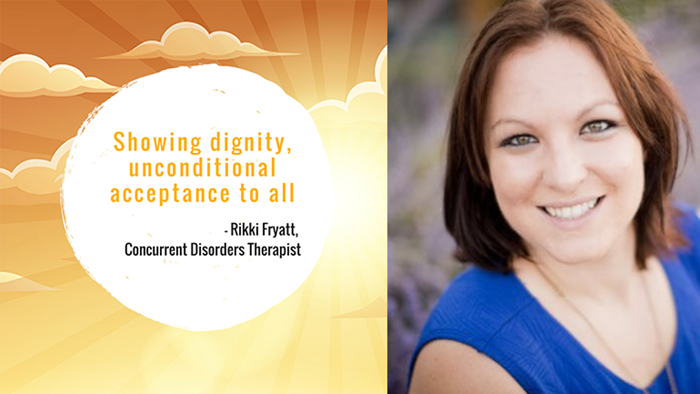 We asked our staff to share what "what I do matters" means to them in just six words. Read one addiction counsellor's story behind her six word stories.
My six word stories are: "Seeing substance users as deserving humans" and "Showing dignity, unconditional acceptance to all."
Entering the counselling field, I've always aspired to focus on uplifting and supporting society's most vulnerable. My career has led me deep into the depths of the addiction world, both in residential and outpatient settings. Early on, it became evident that underneath substance use and addiction was a commonality: excruciating pain.
This pain involves severe and persistent mental health challenges, adverse childhood experiences, trauma, chaotic relationships, poverty, sexual exploitation, isolation, etc. Essentially, I've come to witness a culmination of the most unthinkable, unimaginable hurts possible.
Within this darkness, I quickly noticed the heart and the humanity within this population. I noted not only a desperation to escape the experience of pain, but also resilience, strength, protectiveness, loyalty and a longing for a life worth living.
I often find myself in awe of the resourcefulness and capacity to find a way when there seems to be no way. I find myself inspired and intrigued at how these folks found a way to manage their complex juggling acts in a world that too often condemns, stigmatizes and conveniently sidesteps. Walking alongside these deserving individuals on their journeys and being allowed to briefly join their support team has unquestionably become my passion.
My role as a concurrent disorders therapist is a real privilege and honour, rather than a job or position. Each and every day, I am presented with the challenge of engaging those who have been unsuccessful in securing and maintaining needed supports. Some days are harder than others, being faced with this excruciating pain, without having an immediate solution – that immediate gratification that can too easily (and temporarily) be found in substance using.
While I can't fix, erase, or remove the suffering endured in the lives of those I serve, I know that I can communicate kindness, compassion and respect. I know in the face of suicidality, overdoses or an individual's persistent choosing to live at risk, I can remain grounded with the goal of upholding this client's humanness at all costs. I may not understand the complexities of their hardships, but I know I am blessed with the present moment, an interaction during which I can plant a seed, crack a smile or offer a brief period of calm reprieve from the reported chaos.
As a music lover, I draw strength from lyrics that assist me in maintaining perspective and focus. Two primary lines that propel me through are: "There is a crack in the door filled with light, and it's all that I need to shine" and "Help me not forget in darkness, the things that I believed in light."
It's no coincidence that both references refer to light. As service providers, I believe we're called to carry light into the dark places, finding ways to illuminate and instill hope where disappointment, shame, regret, fear, rejection and abandonment dwell.