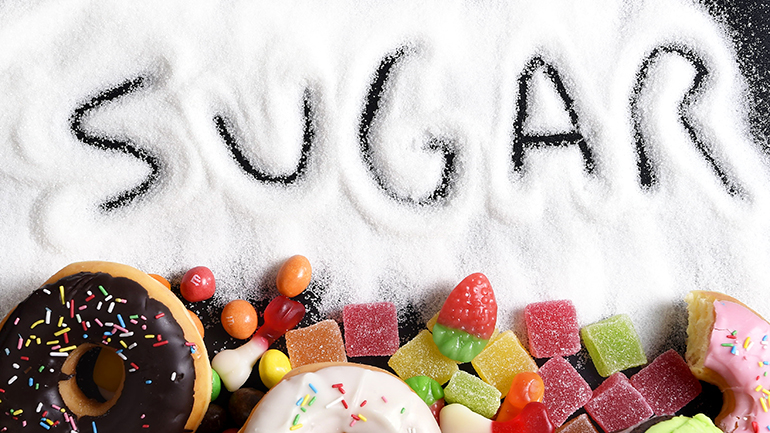 When sugar is eaten in excess, it can lead to weight gain that can increase the risk of diabetes, heart disease, blood pressure and elevated cholesterol.
Let's talk about sugar. Sugar can make food taste irresistible.
But when sugar is eaten in excess, it can lead to weight gain. Weight gain around the middle has been shown to increase the risk of diabetes, heart disease, blood pressure and elevated cholesterol. You may know that sugar is found in some of our favourite foods like biscuits, cakes, ice cream and jalebis.
But did you know there are sugars hiding in foods where you would not expect?
Take salad dressings, ketchup, soups and peanut butter – if you look at the nutrition labels and the ingredients list, you will see sugar or you may even see a mystery word, which can also mean sugar (for example, dextrose).
There is a lot of confusion about "natural" sugars vs processed or refined sugar. Is one better than the other? Are artificial sweeteners okay to consume? How do I calculate how much sugar I am eating? Let's start by answering some of these common questions.
I've heard that brown sugar or honey or even jaggery (gur) is better than white sugar. Is that true? What is the difference between all these sugars?
Brown sugar is white sugar with added molasses (dark brown sugar syrup), which also makes it softer. Honey is a natural sugar, which can still increase your blood sugar and lead to weight gain. Jaggery (gur) is a natural product of sugar cane that is less refined than white sugar. It contains a small amount of micronutrients, but it still contains molasses. However, to receive any benefits from these micronutrients you will have to eat at least ½ cup of jaggery (gur).
All types of sugar will increase your blood sugar. However, processed and refined sugars will increase your risk of chronic disease, and can lead to weight gain.
If you are struggling with controlling your sugar intake, you may want to try an artificial sweetener (for example, Splenda). Artificial sweeteners do not affect blood sugars and contain no calories.
What is the difference between added sugar and natural sugar? Where do I find them?
Added sugars are sugars and syrups that are added to food during processing or preparation. They are found in foods like granola bars, muffins, cookies, hot chocolate, gulab jamuns, jalebis and so forth. Most of these foods offer very few nutrients and are often high in sugar and fat. By eating food with added sugars daily, you are increasing your risk of developing chronic diseases.
Natural sugars occur naturally in food. They are found in foods like milk, plain yogurt, fruit and some grains. Foods containing natural sugars tend to be higher in protein, vitamins, minerals and fibre. Consuming foods with natural sugars will keep you full longer and help to stabilize your blood sugar. If you are diabetic, talk to your dietitian or call HealthLink BC at 8-1-1 to speak to a dietitian.
Remember to consume foods with added sugar in moderation. Be aware of added sugar in foods by reading nutrition labels and ingredient lists. Remember to add more natural sugars into your diet through foods, such as fruits, vegetables and plain yogurt.
How do I calculate how much sugar I am eating?
You can figure out how many teaspoons of sugar you are eating by dividing the grams of sugar (found on the nutrition label) by four. For example, if a can of pop contains 40 grams of sugar, divide by four to find that is equal to 10 teaspoons of sugar.
Also, remember that foods like flavoured yogurt contain grams of natural and added sugar, whereas all the grams of sugar contained in plain yogurt are natural.
The World Health Organization (WHO) recommends that adults and children reduce their added sugar intake to less than 10 per cent of their total energy intake, which is less than 12 teaspoons a day. So after drinking a can of pop, you are only left with two teaspoons of added sugar for the whole day.
Remember to read every label, and reduce your added sugar intake to less than 12 teaspoons a day.
Try baking at home. You can make a batch of healthy homemade muffins and throw them in the freezer – take one out whenever you crave something sweet.
Trail mix – add dried raisins or cranberries. You can also add small pieces of dark chocolate.
Yogurt parfait – plain yogurt, cut up fruit and granola. Add almonds or walnuts for extra protein and crunch.
Cookies – try social tea or arrowroot cookies. Keep your limit to two.
Granola bars – choose ones that contain less than eight grams of sugar. Avoid bars that are chocolate covered.
Choose foods with fewer than 10 ingredients as this means they are less processed.
Next time you pick up a packaged food item, take the time to read the nutrition labels and ingredients list. You may be surprised to find hidden sugars in some of your favourite foods.