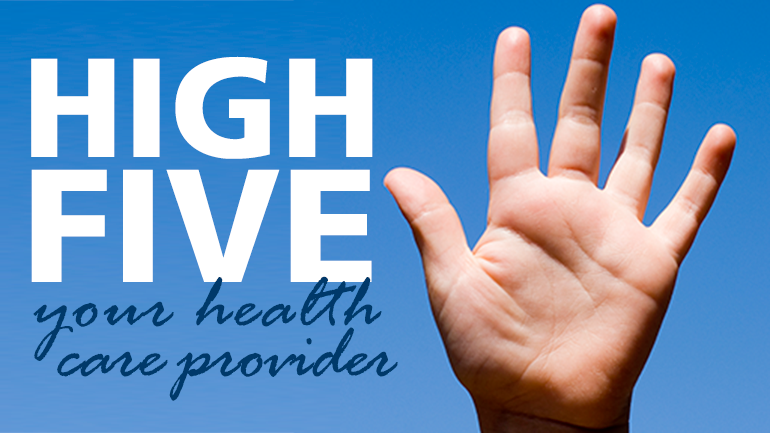 This week's high fives go to our amazing people at Burnaby Hospital, Jim Pattison Outpatient Care and Surgery Centre and Surrey Memorial Hospital.
Want to send a high five to your health care provider or Fraser Health team member? Leave a comment below or e-mail feedback@fraserhealth.ca.
I was experiencing chest pain, which included arm pain and general discomfort. It was an extremely busy day for the [Burnaby Hospital Emergency Department] staff, but they handled themselves very well, considering the circumstances.

Everyone, from the triage nurse, Registration, and the Emerg nurses and doctors were most professional and gracious under very trying conditions!

Please pass on my thanks to all of the staff that attended [to] me, particularly "Dr. Zoe". I will endeavour to drop off a little thank you at the Hospital, over the next few days.

However, I did want to send off this message to everyone.

A very "Merry Christmas" to everyone!
For Jim Pattison Outpatient Care and Surgery Centre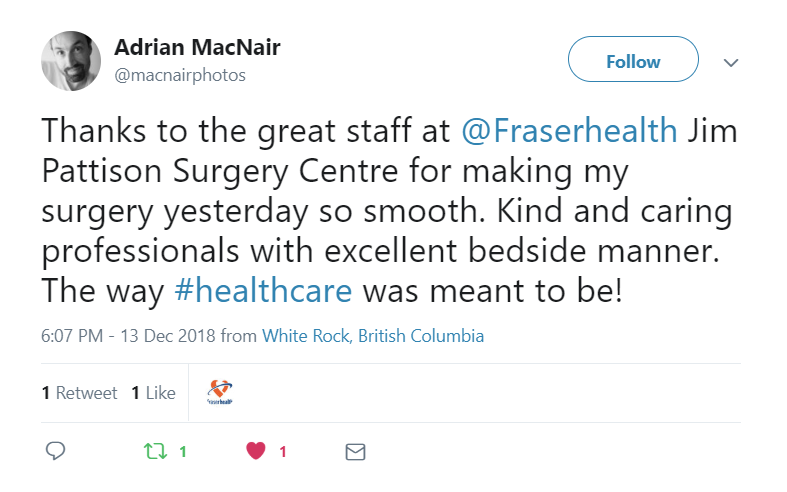 For Surrey Memorial Hospital
BIG Thank You to Staff on the N43 Internal Medicine Floor, SMH!
To whom it may concern:
I am writing this email to you to let you know what a wonderful department the N43 Internal Medicine was to my Mom. My Mom, Carol was admitted in to emergency at Surrey Memorial [Hospital] on October 5, 2018. On [October] 7th she was transferred to the Internal Medicine floor. My Mom remained there until November 14th [after which] she was eventually taken to a hospice. In the weeks that she was at Surrey Memorial the care she received was second to none. My Mom in the last 6 years has had many surgeries and been to many hospitals... The care and compassion that was given to her in the Internal Medicine department at Surrey Memorial was the best we could have ever hoped for... Each nurse treated my Mom as if she were their only patient. They truly cared and had so much compassion and time for her and the family. They were so supportive of not only my Mom, but of all of us. I don't think we could have got through the emotion and the heart ache without the nursing team and the doctors. I cannot imagine what a difficult job it is caring for patients and doing it with such love and caring, not to mention skill. My family and I would like to thank the staff on the N43 Internal Medicine floor with all our hearts.
---
I wanted to email and thank the staff that helped us through my son's tonsil and adenoid removal ordeal. Everyone we came into contact with was fabulous. We checked in early in the morning and we found everyone to be so calm, patient and reassuring. Our son stayed the night and then was discharged, he started bleeding and we brought him to the pediatric emergency. They brought us in immediately and he was watched very closely for a few hours before having another bleed, and at this point they cut his clothes off and he went back into the Operating Room. I was rattled, Dr. Dickson, Ears, Nose and Throat Specialist (ENT) and his brother, the anesthesiologist, were so understanding and kind. After the second surgery we stayed another 24 hours and we felt our son was given the best care. I can't thank the staff enough.
Dr. Dickson came into see us several times over the next few days.
Nurse Donnell was the nurse who helped us in the recovery the first time, and again she came to check on us when we were in the Emergency Room. She was fantastic.
Nurse Cheryl and Nurse Alison Hall both provided above and beyond care for my son. Alison had a red-haired student nurse with her that was also very good.
Thank you everyone, we really appreciate all of the hard work you do for families.