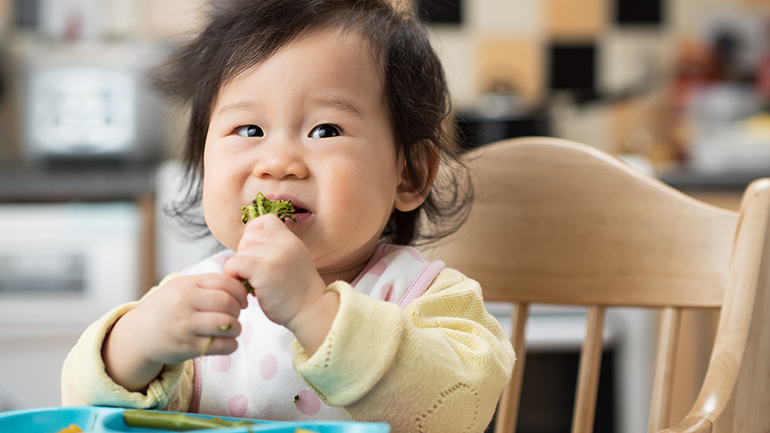 Chances are you've heard of several different approaches of introducing solid foods to your baby. The bottom line is that you don't have to choose one method over another.
Chances are you've heard of several different approaches of introducing solid foods to your baby. The bottom line is that you don't have to choose one method over another. Your baby may enjoy one approach over another, or a combination of methods may work best. Regardless of the feeding style you choose, let your child decide how much to eat.
The current feeding method recommends that at about six months you begin to spoon feed your baby fork-mashed and finely minced foods at first, while offering soft finger foods and then gradually introducing a variety of textures.
One style that is gaining popularity among parents is called baby-led weaning. The term originated in the UK and refers to weaning baby onto solids. While the concept of baby-led weaning has been around for a long time, it is within the past decade that more parents are exploring this feeding method.
What is baby-led weaning?
This method of feeding your baby skips the mashed and finely minced stage and starts with baby eating finger foods that he can grasp. The baby controls how to feed, as he grasps pieces of food with his hands and controls the pace of eating, including how much to eat. Parents who use this method report it has a positive impact on their babies and families because baby eats what the family does, without having to modify the texture.
Both current and baby-led weaning methods of feeding recommend:
Start introducing solids at about six months of age when baby shows he is ready.
Signs of readiness include: good head control, can sit up and lean forward and turn his head away to let you know he has had enough.
Let your baby decide how much to eat.
Make mealtime a family affair. Sit down with all the members of the family as often as possible.
Encourage self-feeding. Introduce soft finger foods starting at six months.
Breastfeeding or formula continues to be the main source of nutrition as solids are introduced.
Never leave a baby unattended while eating.
Expect a mess as baby eats at her own pace exploring food using touch and taste.
How is baby-led weaning different? 
In the baby-led weaning method, the baby feeds herself foods that the family is eating including:
Tender strips of meat, chicken or tofu large enough that baby can grasp
Wedges of hard boiled eggs
Spears of cooked vegetables (such as broccoli, green beans)
Avocado slices
Pieces of bananas
Strips of cheese
The current recommended method includes a combination of an adult spoon feeding the baby and also offering small pieces of food. Typical foods might include:
Minced or finely chopped well cooked meat, poultry or fish
Scrambled eggs
Diced pieces of avocado
Minced or diced soft cooked pieces of vegetables
Iron-fortified infant cereal
The risk of choking may be a concern, regardless of the feeding type used. Lower the risk by ensuring baby is sitting up when eating, avoiding distractions, and not offering foods that are a choking risk. It is normal for your child to gag as they learn to eat different textures.
It may be easier for your baby to get adequate iron using the current method of feeding or a modified version of baby-led weaning. Start with iron rich foods two to three times a day. Offer some foods that can be picked up by hand, for example: bean or lentil patties, ground meat or finely minced meat or poultry or scrambled eggs and other foods that may be offered by spoon (fortified infant cereal).
If you are having difficulties introducing solids to your child, you can consult with a dietitian.
Contact a dietitian
If you have any questions about healthy eating, food, or nutrition, call 8-1-1 to speak to a registered dietitian.