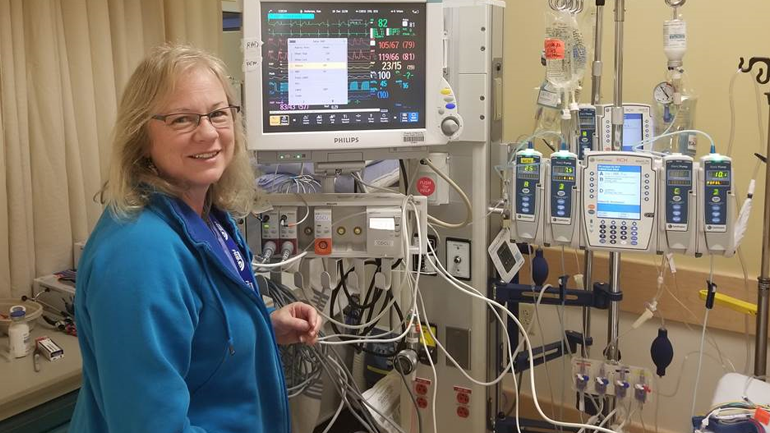 Dawn Murray has left a legacy of leadership and mentorship at Royal Columbian Hospital's Cardiac Surgery Intensive Care Unit.
Dawn Murray started her journey with Fraser Health in 1992 as a nurse in Royal Columbian Hospital's Cardiac Surgery Intensive Care Unit (CSICU) team.
Now also a BCIT Critical Care Instructor and a mentor to new nurses, Dawn will soon transition away from bedside nursing to semi-retirement, continuing to instruct at BCIT and leaving a legacy of leadership and patient-centred care at Fraser Health.
Observing patients become well again and able to carry on with their previous quality of life, even after a serious health issue, has been one of the most rewarding aspects of her career. "For me, providing quality care means treating my patients the way I would like to be treated if I were in their shoes," she said. "It means knowing that our patients and their family feel a strong sense of trust, competence, and understanding in the care that I provide."
"Over the years, Dawn has brought with her a contagious enthusiasm and a positive spirit," said Allstone Huang, manager of the Royal Columbian Hospital CSICU and ambulatory cardiac clinic. "Her dedication to providing excellent care for our patients made Dawn a resource for her colleagues at the bedside, as well as when she played a frontline leadership role."
Mentoring has been part of her sense of professional responsibility since her time attending the Vancouver General Hospital School of Nursing in the 1980s, where she absorbed the art of nursing through observing senior nurses. "Aspiring to implement and promote best practice in a positive, caring and constructive way is very important to me, and something I know I can pass on to others through practice and knowledge sharing," she said.
"Sometimes, just a note of encouragement and positive guidance to show new nurses what career opportunities are available, what they might be interested in pursuing within their nursing career, is enough to jumpstart one into leadership and advanced education. For instance, many of my former students and mentees have gone on to advance their careers in the health care system much past my own, and I like to think, in part, that perhaps I was a catalyst to such growth."
Allstone would agree. "Many new critical care nurses going through the BCIT specialty education program, and new orientees to the unit, thrive in their chosen area of specialty today in part because of the mentorship that they received from Dawn. The daunting task of learning a new skill set and successfully integrating it into practice in a challenging and dynamic area such as CSICU, is made possible because of mentors such as Dawn."
"Fraser Health's vision of Better health. Best in health care is embodied in the exceptional practice and mentorship of Dawn."