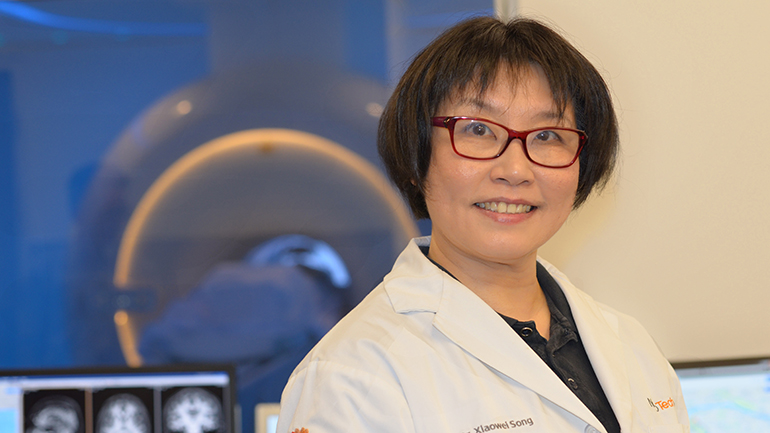 Fraser Health researchers awarded a grant to test the validity of an electronic comprehensive geriatric assessment tool that generates a frailty index.
The future of seniors' health care is happening here.
Fraser Health researchers were recently awarded a $1.38 million grant from the Canadian Institute of Health Research (CIHR) to research and test the validity of an electronic comprehensive geriatric assessment tool that generates a frailty index. The electronic Comprehensive Geriatric Assessment – Frailty Index, or eFI-CGA as it is known, is embedded into a physician's electronic medical record and is able to calculate the patient's frailty index at point of service. The frailty index is a sensitive measure of frailty and now, because of the eFI-CGA availability in clinic settings, it allows clinicians to track frailty over time. Generating a frailty index at point of service leads to the creation of individualized health plans for seniors that can effectively prevent or delay the onset of frailty. The CIHR grant is a serious investment that supports the eFI-CGA and its use in health care planning for older adults.
Clinical scientist Dr. Xiaowei Song received the four-year award as the principal investigator along with Dr. Kenneth Rockwood, a world leader in frailty research from Dalhousie University, and Fraser Health's Annette Garm, Executive Leader of CARES (Community Actions and Resources Empowering Seniors), and Dr. Grace Park, Regional Medical Director, and other researchers.
The eFI-CGA was previously developed by Dr. Park and Annette Garm with Dr. Song and Dr. Rockwood, stemming from foundational work in the CARES project. The grant supports building a valid and reliable electronic frailty index tool working with CARES and Fraser Health's International Resident Assessment Instrument data for widespread clinical use.
"When people get older they tend to accumulate different types of problems, and it puts seniors at risk of adverse health outcomes, and even death," said Dr. Song, a neuroimaging expert who has studied frailty index for 15 years. She currently works out of the new Fraser Health and Simon Fraser University collaborative NeuroTech and ImageTech Labs at Surrey Memorial Hospital studying brain health in aging.
The frailty index, she explained, "can act like a canary in a coal mine to tell us in advance that something could go wrong with their health."
Use of seniors' frailty assessments in Fraser Health began with the CARES project led by Garm and Dr. Park.
"We're thrilled to bring the electronic version of comprehensive geriatric assessment to the physicians in the community," Dr. Park said. "We are excited to receive this CIHR grant to study our assessment tool further and I look forward to spreading the knowledge about frailty and this intervention program to all physicians who work with seniors."
Annette Garm highlighted that the eFI-CGA is the first of its kind in the province and across Canada, and that it offers physicians a unique advantage when caring for seniors. "Knowing and tracking a patient's frailty index will support better frailty assessment and management over time to prevent the descent of seniors into frailty," she said.
Currently, health care practitioners assess frailty by paper charting, evaluating patients across multiple health factors, which takes time. The new electronic frailty index based on eFI-CGA tracks dozens of indicators and would save time by automatically recalculating a patient's frailty index as their health conditions change.
Identifying frailty early is important because it allows health care providers to intervene before frailty sets in and its negative impact on the senior cannot be reversed. Early frailty identification is key to healthy aging. This in turn promotes a better of quality of life for seniors and will reduce demand on acute care resources.
Members of the award-winning research team also included Fraser Health's Samar Hejazi, Dr. Robert McDermid, Dr. Sonia Singh, Dr. Ryan D'Arcy, and Dr. Ronald Kelly, plus patient partner Joyce Sandercock and Dalhousie University's Dr. Olga Theou.
Dr. Song and an interdisciplinary team also won a second award of nearly $15,000 from the Michael Smith Foundation for Health Research to support early frailty assessment at home. The Michael Smith fund will support the development research of wearable technology that can identify frailty markers early to help seniors and their doctors prevent their frailty or slow its progression through early intervention. This could look like a wearable electronic sensor device that could potentially be used by seniors at home or in long term care to track their frailty indicators. This would allow patients to better monitor changes in their health and work on prevention with their family doctors.
For this award, Dr. Song is partnering with Rowena Rizzotti of the Health Technology District, Surrey Memorial Hospital's Dr. Ryan D'Arcy, and other SFU and health care members to come to the table and share ideas on ways to make such an early detection mechanism feasible.
"We have an aging society," Dr. Song said. "We will have more people with frailty using hospital beds and acute health care resources. So if we can help them manage frailty, we can care for them with other services."
Get more information about conducting research at Fraser Health at Fraserhealth.ca/research.