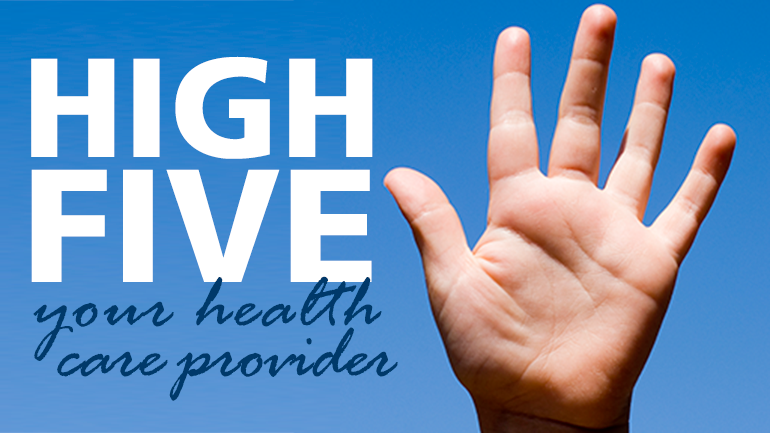 This week's high fives go to our amazing people at Abbotsford Regional, Burnaby, Royal Columbian and Surrey Memorial Hospitals.
Want to send a high five to your health care provider or Fraser Health team member? Leave a comment below or e-mail feedback@fraserhealth.ca.
For Abbotsford Regional Hospital
I just wanted to thank all the caring staff that looked after me during my recent knee replacement surgery. Every one of the numerous people I interacted with, from the pre-op sessions to the after-surgery team in Baker 3 showed a caring and knowledgeable attitude. The operating room team assembled with my surgeon Dr Smit, were cheerful and helped minimize a stressful time for me. The nursing team, Carissa, Willow and Emma made sure I was looked after and ready to head home. Thanks again for seeing me as a human being in need, not a number.
---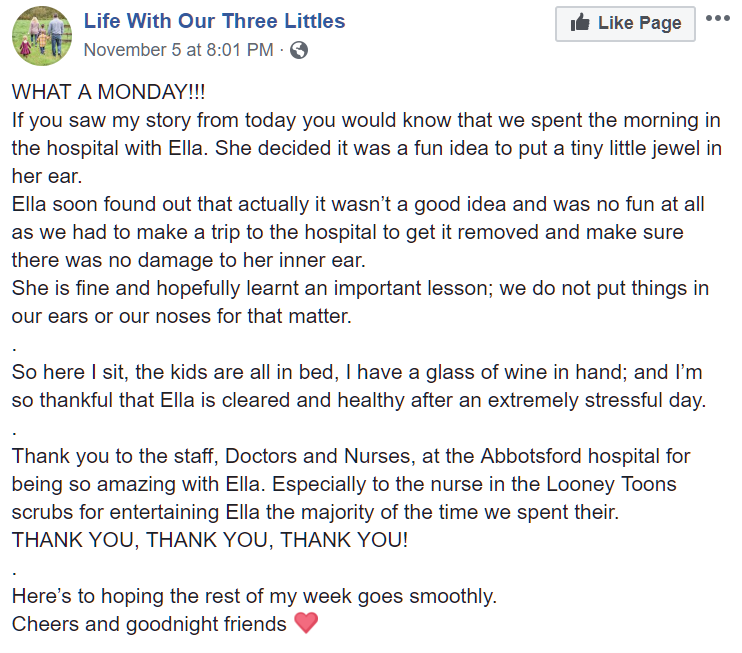 ---
I am writing this email to say how incredibly pleased I am with the Abbotsford Regional Hospital maternity unit and all the staff that work there. Last week, I delivered my second baby at the maternity unit and from the moment we stepped into triage we were treated with efficient, supportive and compassionate care. The nurses and physicians were knowledgeable, informative, encouraging and respectful. They demonstrated an exceptionally high quality of care throughout the whole process of labour, delivery, and post-partum care. They deserve to be recognized for going above and beyond in their work caring for myself and my family. (Specifically, Rebecca in triage, Katherine, Ally, Mildred, Hayleigh, Jordan and Dr. Merchant – sorry I may have missed someone in that list. I feel so fortunate to live in a place where we can go into the hospital and receive such great care from the moment we step through the doors.
Thank you so much.
For Royal Columbian Hospital
Thank you to all the nurses and caregivers in the Cardiac Care Units at the Abbotsford Hospital and Royal Columbian Hospital for the terrific care you gave my husband. He spent four weeks altogether in the hospitals and was very happy with all the staff. He is home now and doing very well.
Thank you once again.
I am at Burnaby General, thanks particularly to the efforts of Anne Smestad. I would like to thank everyone at Fraser Health for their care and wonderful help. My experience at Burnaby General is excellent. In my ward, all the staff are so nice and caring.
---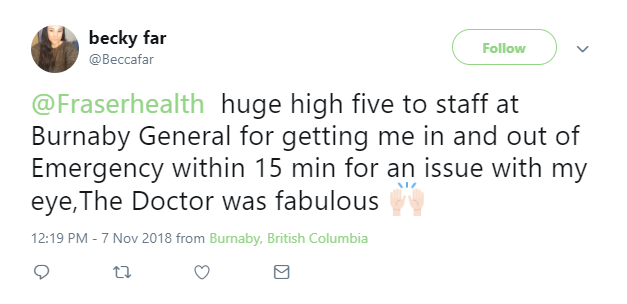 For Royal Columbian Hospital
Hello Fraser Health/Royal Columbian Imaging Department,
Today I had a very positive experience at your hospital. When I heard a nurse asking her colleagues who needed coffee, I jokingly put up my hand in the waiting room and said "me please."
We had a laugh and she politely informed me I couldn't have coffee until after my test.
Imagine my surprise when I left the x-ray room to find a coffee waiting for me. I wanted to pay it forward and headed to your gift shop to get her a small gesture of gratitude, however it was unfortunately not yet open. I returned to the department hoping to thank her in person. The staff informed me she was unavailable at that time. I only briefly saw her nametag, so I wanted to commend "Helen" in medical imaging for her attention to quality patient care. She went way above and beyond and I am hoping you could recognize her for me, since I didn't get the chance. She made my day!
---

For Surrey Memorial Hospital
I have had quite a ride over that last six days. I won't get into too many details but some background will help.
I had Prostate Green Light Surgery was discharged and looking forward to a rapid recovery. Not to be though! After four visits to the Emergency Department, two by Ambulance over the next four days, I was exhausted both physically and emotionally.
Pain had me confused as to the outcome of my recovery. All through this rough patch in my life, the hands that were laid on me in the form of patient care, were provided with genuine professional detail.
Thank you to all that helped me to a better place.
---
I just want to say thank-you to the amazing staff on Surrey's surgical unit for the excellent care and attention you provided to my Mom this past week, who, due to a hip fracture, got a new one for her 91st birthday! Even the recovery room staff made her birthday memorable by singing 'Happy Birthday' as she awakened! You were gentle, courteous, efficient, and responsive the whole time. She even enjoyed the food, and was overwhelmed by the quantity of snacks provided. From the care aids, OT, PT, SW, nursing, to physicians. She and my sister, who was accommodated to stay overnight at bedside for two nights, which resulted in our Mom recovering from her delirium very quickly. Everyone did their best to ensure her stay was as comfortable and safe as possible. Thanks again for making this challenging experience manageable!
---