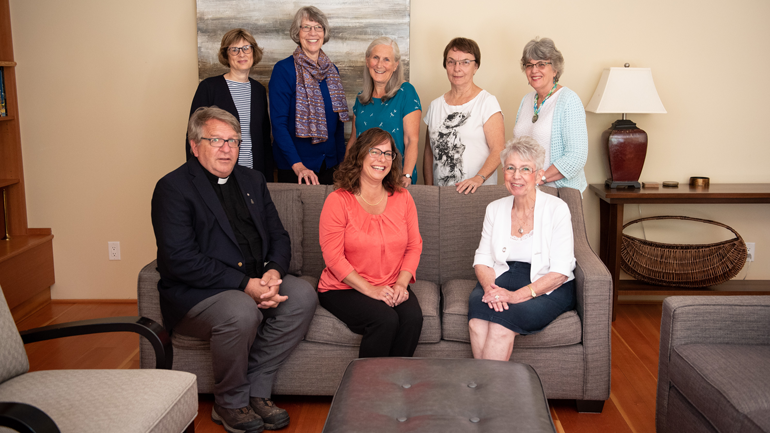 This team has proven that by working together, communities can prepare residents to have important conversations about the future.
As Fraser Health's Regional Coordinator for Advance Care Planning, Cari Borenko Hoffman spends much of her time educating and supporting health care providers and community members about the importance of planning for the future. It's an enormous task, made even more complicated when questions arise about not just health care, but legal and financial planning – topics outside of Fraser Health's purview.
A partnership between the Ladner United Church Parish Health Team, Deltassist Family and Community Services Society, Delta Senior's Planning Team, and Fraser Health has proven that by working together, communities can prepare residents to have these meaningful conversations. The partnership is a recipient of an Above and Beyond Best Collaboration Award for their work on "Planning for the future: Important information and conversations about medical, legal and financial decision making."
"Cari works exceptionally hard across the region as a team of one with difficult, deliberate education, training and system improvement to support patient-centred conversations at the most vulnerable times in their life," said Scott Brolin, Executive Director, Rehabilitation, Acquired Brain Injury, Palliative Care Program and Queens Park Care Centre / William Rudd House. He believes having community groups step in to amplify the message is crucial.
One day, Cari got a call from a community group wanting help with a planning session for their members. This time the call was from a retired Fraser Health nurse, Jane Marynowski, who is part of the Ladner United Church Parish Health Team. They were looking for Fraser Health's Advance Care Planning workbooks.
Cari offered something better: she would come speak to them, bring the workbooks, and suggested they also include the financial and legal communities.
They offered something even better: they would organize a free day-long event in March.
The church aims to be a resource for Ladner, and the health team has been involved in efforts such as arranging opioid overdose training, offering a food skills for families course, and providing lunch events for seniors.
"This future planning event was a great experience of the community coming together," said Jane, who enlisted the assistance of Kay Dennison from the Delta Seniors Planning team and Lyn Walker of Deltassist Family and Community Services Society, as well as organizers from similar events in Langley. Together with the Parish Health team they organized speakers, information booths from other community organizations, food donations, marketing and registration.
On the day, Cari provided an Advance Care Planning workshop, which was followed by a legal presentation on wills, probate and power of attorney, and then a panel discussion with representatives from Fraser Health, a law office and a financial services firm. During breaks, participants visited booths from community organizations such as the Delta Police, Delta Hospice Society, Canadian Mental Health Association, Delta Funeral Home, Parks and Recreation, seniors centres, the University of Victoria: Centre on Aging, and many others.
At the heart of Advance Care Planning are two questions: Who would speak for you if you couldn't speak for yourself, and what gives your life meaning? "This conversation is not about death and dying, it's about living," Cari said. "How do you want to live?"
"It's all about conversations. It's not just about paperwork and it's not just about deciding whether you want to be resuscitated. It's about equipping your loved ones to know what's important to you. It can be complex because there's legal aspects to this but at the end of the day, if you're talking and everyone's on the same page, then you've done your job."
Because of her time working in critical care and emergency nursing, Jane knew this was a message she wanted to help spread. "People show up in a crisis and you discover families have never had these conversations."
Cari takes pride in the fact that Canada is the only country with a national framework for Advance Care Planning, which many other countries have used – and the workbook created by Fraser Health was adapted as the national Speak Up book.
She hopes other communities can learn from the Planning for the Future team and replicate the success of that particular event throughout the health authority. "They were committed women who came together as a team and wanted this for their community, wanted this for their families. To watch it all come together so well, I was almost in tears."
The team includes: Joan Angrignon, Muriel Cullen, Kay Dennison, Sandie Greene, Cari Borenko Hoffmann, Sandy Holland, Jane Marynowski, Iris Scott, Lyn Walker, Trish White.