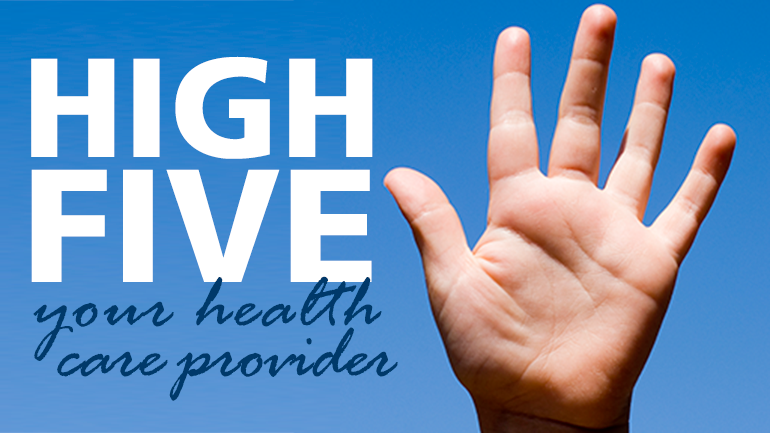 This week's high fives go to our amazing people at Burnaby Hospital, Surrey Memorial Hospital and Tri-Cities Home Health.
Comments made by Scott Ruddy, on March 31, 2019 in the Burnaby Now:
Thank you Burnaby Hospital.
At a time when there always seems to be more than enough criticism about the state of our health care system, I felt compelled to write about a recent unexpected visit to Burnaby Hospital.
I had been sent to [Burnaby Hospital] by my doctor after a couple of days of fever and stomach pain had become unbearable. From the time that I entered the emergency to the following day I was discharged - after having surgery for appendicitis - I have to say I was treated quickly, professionally and compassionately during the entire process.
My intake nurses, Charmaine and Elphie were great. The CT scan crew was as well. I was always well-informed and reassured along the way.
My admitting doctor was available quickly and my eventual surgeon, Dr. Hsu, was excellent as well. Post-operative nurses on ward 4-D were there every couple of hours during the night, asking me if I needed anything, giving pain meds and taking blood pressures.
I realize that these are things that hospital staff are all expected to do, but the way I was handled by every employee at [Burnaby Hospital] during my ordeal put me so at ease that I was absolutely blown away with the experience.
I'm sitting at home today sore and tired, but with an absolute renewed sense of respect and admiration for these front-line workers, and for my city's hospital. Thanks for truly looking after me every step of the way.
For Surrey Memorial Hospital
I want to thank the staff that took care of me a few days ago. When I went to the ER, I was experiencing a very high degree of pain and I was in distress.
I was attended to by ER Nurses Evelyn and Asha and Dr. Brett Elsdon. They were all highly professional and courteous.
The source of the pain was not discovered during the ER visit, but I was grateful to have staff that cared to try and find answers. They treated my concerns as valid. Please extend my gratitude for their kindness and care.
For Tri-Cities Home Health
I thought I would be remiss if I did not send this note of commendation on behalf of my family, especially my mother, to express our sincerest appreciation and gratitude for the outstanding care and compassion Nurses Negar Ghaseminia and Elizabeth Pang have provided to us.
They exemplify collaborative relationships with patients and families by providing compassionate care in dealing with health problems.
The care we received for my mother from them is beyond our expectations.
Their professional expertise is beyond exceptional. We were impressed by their professional skills. They work very hard and have deep passion for patient care.
Would sincerely appreciate any words of encouragement/affirmation you could extend to both Negar and Elizabeth.