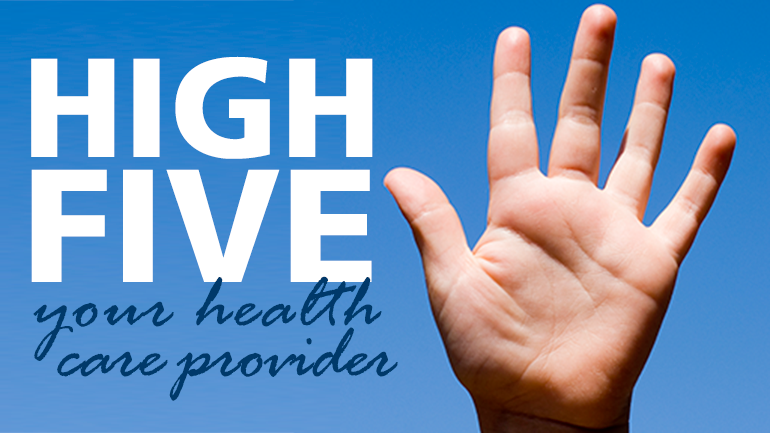 This week's high fives go to our amazing people at Burnaby Hospital, Chilliwack General Hospital, Royal Columbian Hospital, Ridge Meadows Hospital and Peace Arch Hospital.
I just wanted to say how grateful I am for Dr. Wu at Burnaby Hospital. Dr. Wu has made me feel like we are working together to find solution-focused care and helps me identify my strengths.
I'm thankful for the ongoing empathy and care from the Mental Health team including Paul H. whose guidance and problem solving with me has definitely made a positive impact and changed the quality of my life.
For Burnaby and Royal Columbian Hospital
I arrived at the Emergency Department at Burnaby Hospital in severe pain and as it turns out suffering from a massive heart attack. The emergency staff were quick to recognize the signs and attended to me immediately. I was given aspirin to chew and I was in a bed within minutes of arriving. Tests were done immediately and before I knew it I was being transported by ambulance with the admitting nurse beside me, I think her name was Kristine, to Royal Columbian. Upon arriving at Royal Columbian I was immediately taken to the operating room where they put a stent in my right artery which was 100 per cent blocked. They saved my life and I will be forever grateful to both hospitals and the fast action by Emergency Department staff at Burnaby.
I was transported back to Burnaby Hospital where the care for the next six days, under the supervision of Dr. Anderson was outstanding.
Please pass along my lifelong thanks to all concerned who were part of saving me.
For Chilliwack General Hospital
Thursday March 28th at approximately 3:00 p.m. I walked my wife to work. I continued my walk. One moment I was fine and the next my breath was gone. I stopped breathing. I couldn't even call for help. I knew I would soon pass out so I tried to get to the grass. I didn't make it and collapsed hitting my head hard on the pavement. I lost consciousness.
Thank you to the good samaritan who found me, called 911 and stayed with me until the ambulance arrived. I don't remember the event so I don't remember you. Just know you helped save my life. My brain was bleeding so my story may have ended on that sidewalk without your assistance.
I had a seizure upon arrival at the ER at Chilliwack General Hospital. The expert team in the ER promptly treated the seizure and immediately started the battery of tests to figure out what was happening… the care I received made me feel like I was the only patient in the building.
My sister, a nurse flew in from Michigan to support us. She was stunned by the spectacular quality of care and the 'no stone unturned' approach to treating my seizure and brain bleed.
You can feel everyone rooting for you to get better. That is true caring. Chilliwack General Hospital staff care in a big above and beyond way. It made a difference in my recovery and in regaining my confidence to go forward and feel safe going home.
Moving to Chilliwack was one of the best things my wife and I have ever done. Beauty in every direction you look. Friendly, good-natured people who smile at you on the street and who don't think twice about helping you when you need it.
Chilliwack must know how lucky it is to have our small community hospital. Bursting at the seams with devotion and dedication to caring for all who live here.
Thank you Dr. Vander Watt, Dr. Nyirenda, Dr. Du Toit and everyone at CGH for your teamwork that put me back on my feet. I will be walking the neighbourhood again by the time you read this.
For Ridge Meadows Hospital
I went to Emergency with terrible back pain and saw Dr. Shawchuk. He sent me home with some meds after good discussion on my diagnosis. I had to go back the next day due to more pain only to find him still working! He was quick to conduct a further and more detailed examination (x-rays, blood etc). I found his engagement and support very professional. He is a very compassionate physician who clearly loves his job and cares about patients. He remembered me and much of what we discussed the evening before. I am feeling better after seeing him a second time. By him staying on to help the day shift with capacity issues it saved me from having to repeat myself.
I am now feeling better with the pain under control.
Kudos to Dr. Sawchuk and the ER team. A small but very appreciative experience at Ridge-Meadows ER.
---
I have sooooooooo many people to thank for the care I received at Ridge Meadows Hospital. The ER staff are top notch! They did everything to figure out what was happening always communicating with my family about what was happening and how and what was up next.
The staff on 3 West – not sure I can say enough but a big THANK YOU!! A few of the people that helped me over and above are as follows: But please do not get me wrong by me pointing out these team members because they are a team on 3 West indeed!
Thank you to:
Maria (LPN, I believe) – always there for me, be it a pain med, or just a face cloth to clean up.
Anthony – I called him 'my hero'
For me RMH, became a part of my life for a while. I am also an RMH Volunteer and cannot wait to get back to that role. I made some new friends through all this. Lucky me!
So, this is my 'thank you' to everyone at RMH. We all need to hear that sometimes and I am sure there are many days that go by that people forget that. I will never forget – ever!
I was in the hospital for two weeks just over a year ago. I was admitted once again last night – what a difference. The meals are hot and tasty. Breakfast was a muffin, oatmeal and a scrambled egg. All of them were hot and good.
Dinner last night and tonight were tasty and hot. Last night was a chicken stir fry with lots of meat. Tonight was meat, brown rice, corn and gravy. Delicious. Thank you for the improvement. It is noticeable.
I would also like to send kudos to Alana and her team in the IV clinic on the third floor. What an amazing team! Very knowledgeable and extremely caring. They always have a smile and make you feel at ease even though they are extremely busy. I couldn't have made it through the last year without their support.
I also have to mention the home care nurses who tended the wound in my ankle over the last year. They saved it. Ceci, Harnit and Angela saved my foot. They discovered the infection and tended to it daily. They were so dedicated and compassionate. It was a relief for me to have them visit and tend to my wounds. Thank you.
Last but not least, the nursing staff on the 4th floor and in the ER. They are busy and trying to save lives but are the friendliest and most caring people. Nothing is too much trouble and boy do they work hard.
I can't say enough about the hospital. I don't want to be here but everyone here has made it as pleasant an experience as they can.