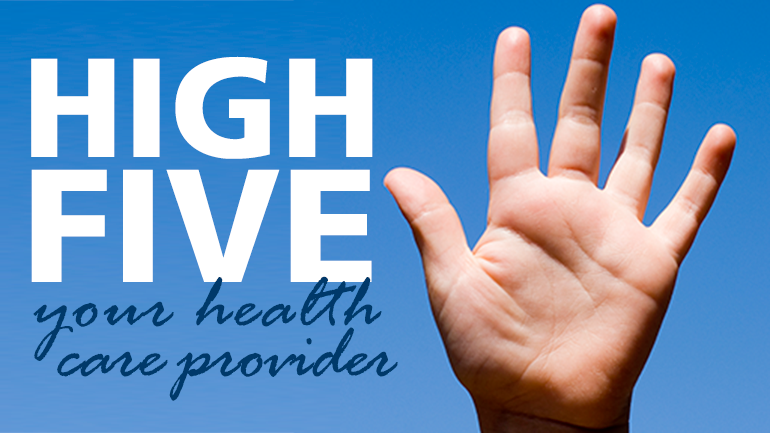 This week's high fives go to our amazing people at Langley Memorial, Ridge Meadows, Royal Columbian and Surrey Memorial hospitals and Gateway Medical Lab in Abbotsford.
For Langley Memorial Hospital
I was in hospital for a hip replacement. I wanted to drop a huge thank you to everyone from start to finish – the nurses on floor two admitting trying to find a spot for the IV were awesome. I got into the surgery room and the staff there made me feel very comfortable and helped with my nerves. After surgery, I was introduced to a lot of staff, from the head nurse on shift to the students in training.
I was there for three nights and must say I have nothing but respect for all the nursing staff who helped me and all the other patients. It shocked me how much each nurse has to deal with every minute of their shift and how they stay calm and collected.
Big shout out to the physiotherapy staff who helped me to get my feet back on the ground. Thank you everyone who was involved with me and my recovery.
For Ridge Meadows Hospital and Royal Columbian Hospital
A year ago, I had a heart attack and was brought to the Emergency Room of Maple Ridge Hospital. Within ten minutes I was being rushed to Royal Columbian Hospital for an emergency angiogram. The three ambulance attendants were very helpful in providing care and compassion for the ride there and back again. That made a huge difference for me.
Upon returning to the hospital, I was taken to the ICU where I was given the best possible care anyone could ask for. The doctors, nurses, all the staff were so kind to me during my five-day stay.
I was to be initially released on the fourth day but I went for a short walk and had some odd sensations so I was kept for observations.The entire floor should be acknowledged for their superior service and care for me during my stay at the hospital.
I will never forget the care that I received at those two hospitals when I needed the best care possible – that is all I got and I am forever grateful.
For Royal Columbian Hospital
Everywhere we go here, we are so blessed to have a truly caring team especially Dr. Tom and his emergency team and the attending nurse, Jennifer. She gave my mom food as she got hungry in the middle of the night. Elaine in H1N was awesome and so were all the nurses there and in Interventional Radiology. Please know that Dr. Shari Li has been immensely amazing as well as Dr. Tom. Kara, hospital dietitian, like most, she was very pleasant and provided us all info we needed in terms of my mom's hospital diet after checking her vitals. Thank you!
---
I am a transgender male recently 10 days post op and I was experiencing some bleeding. After contacting the on-call surgeon through my surgeon's office, I was advised to come to Royal Columbian ER.
I wanted to send an email regarding the ER staff who were very respectful regarding my pronouns and that the experience was uncomfortable for me. In particular, the nurse named Ashley who I found to be extremely sensitive regarding aspects of my body that I am uncomfortable discussing due to my gender identity.
Being a trans person who "passes" extremely well, going to the Emergency Room with a sensitive problem can be very stressful and I appreciated the understanding from the team at Royal Columbian this morning, especially the nurse Ashley, who made the process feel very routine.
---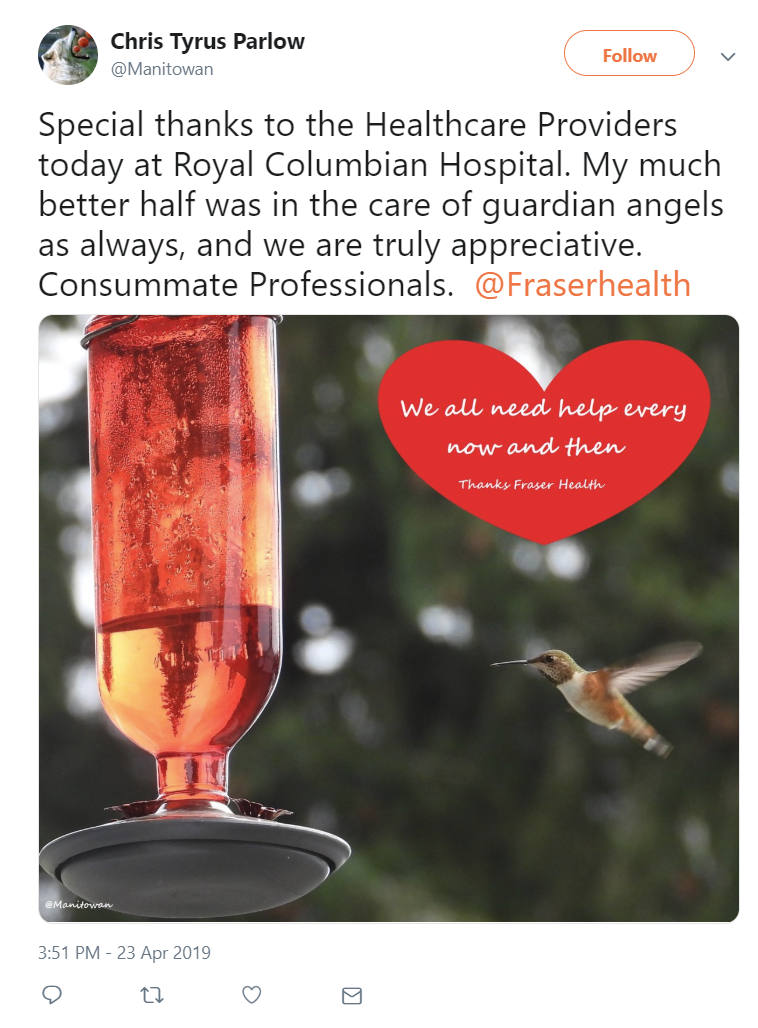 For Surrey Memorial Hospital
I would like to give positive feedback on two nurses who took care of our premature baby during our NICU stay. We had dozens of different nurses during our stay, but two stood out as going above and beyond to make sure our baby was taken care of and they made an extra effort to make sure my husband and I felt taken care of too.
Gilda cared for my son as if he was her own son. Shelly was an immense source of support for me to have the strength to continue attempting breastfeeding. She also helped my husband and I feel more at ease with handling our new baby with her loving and humorous manner when she interacted with our baby when he was crying.
I want to share this feedback with these two nurses to make sure they know the positive impact they had on our stay in the NICU.
For Gateway Medical Lab - Abbotsford
I arrived at Gateway Medical Lab to have blood work done. What a wonderful experience it was. I was greeted by staff with warm and friendly smiles. Wait time? There wasn't any. During the process of having my blood drawn, the lab assistant was so personable. We even had a few giggles during the procedure. I was in and out within less than 10 minutes. The woman at the front desk directed me for the ECG l was to have done. She also was so personable, friendly and professional. Thanking them both for creating such a wonderful experience for me. Amazing team!