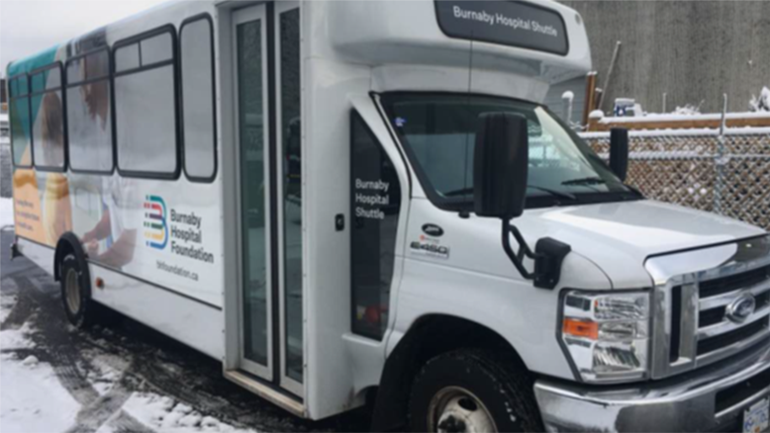 Traveling to and from Burnaby Hospital is now easier for transit users with a new shuttle operating between the hospital and Gilmore and Patterson SkyTrain stations.
A trip to the hospital can be a stressful experience for many, but getting there on time and within your budget doesn't need to add to your worries. Burnaby Hospital offers a free shuttle service, operating between the hospital and the Gilmore and Patterson SkyTrain stations.
The benefits of the shuttle service are many, with positive impact on time, money, and walking distance for the many employees, doctors, general public, and others who visit the hospital both regularly and rarely. Using the shuttle eliminates to the need to find a parking spot, estimate and pay for the correct amount of time needed, and walk to the building from either a distance or in inclement weather. In turn, the shuttle users free up parking spots for those who aren't able to make their trip by transit.
"We're really pleased to have the shuttle service in Burnaby. It provides a great incentive for people to take transit for an environmentally friendly travel method when possible – the shuttle is a direct finish to their trip that saves an uphill walk or waiting for a bus," says Mary Flesher, Director, Clinical Planning and Capital Projects for Burnaby Hospital. "The luxury of being dropped off near the door, and the same entrance each trip, is an added bonus."
The shuttle runs Monday to Friday from 5:40 a.m. to 8:30 p.m., except for statutory holidays. First pickup of the day is at 5:40 a.m. at Gilmore SkyTrain station, and the day's last pickup is at Patterson SkyTrain station (to Burnaby Hospital) at 8:20 p.m. The shuttle schedule runs continuously, save for two driver breaks, going from Gilmore SkyTrain station to the hospital, from the hospital to Patterson station and back to the hospital, and then back to Gilmore again, with each "leg" of the trip lasting less than 10 minutes.
A full schedule is available on the Fraser Health website, along with notification about service disruptions.