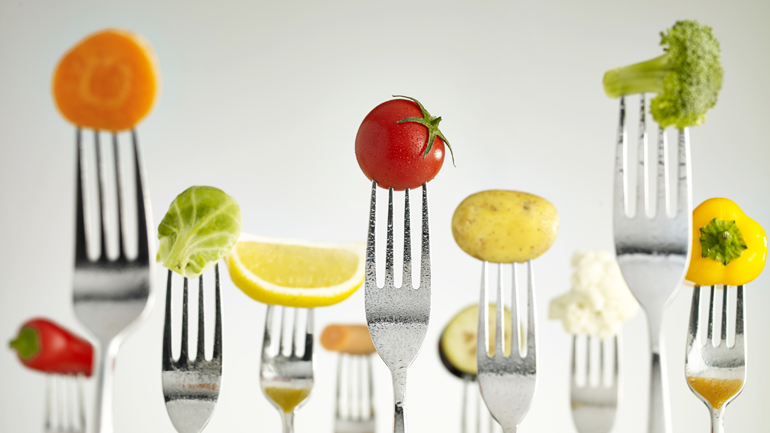 Health Canada released a new version of Canada's Food Guide . Let's explore the new guide and see what the changes mean to you and your family.
You can now see at-a-glance what is recommended for a healthy diet. The first page of the guide shows a plate divided into half vegetables/fruits, one quarter protein foods and one quarter whole grains. Food groups and number of servings are not included in this food guide.
Milk products are now included with protein foods, along with legumes, nuts/seeds, tofu, fish, eggs, poultry and lean red meat. Children 12 – 24 months who are not breastfed should be offered 500 ml of cow's milk (3.25% MF) daily.
Canada's Food Guide offers the following recommendations to help your family eat healthy
Make it a habit to eat a variety of healthy foods every day
Eat plenty of vegetables and fruits, whole grains and protein foods. Offering a wide variety of textures and flavours helps young children learn to like more foods
Choose protein foods that come from plants more often. Nuts are a healthy source of protein but can be a choking risk for young children. Offer nut butters spread thinly on toast or crackers instead.
Limit highly processed foods. If you choose these foods, eat them less often and in small amounts.
Make water your drink of choice. Fruit juice is high in sugar and not necessary for a healthy diet. Replace sugary drinks in your diet. Offer infants small amounts of water from six months of age.
Use food labels. Find out how food labels can help you make good choices for your family.
Be aware that food marketing can influence your choices. There are many products being marketed as "toddler" foods. These foods aren't necessary. Offering food from the family meal is the best choice for your child.
It is also about where, when, why and how you eat.
Be mindful of your eating habits. The best way to gauge how much food your child needs is to follow his cues for hunger or fullness.
Cook more often and include others in the planning and preparation of meals.
Enjoy your food. Include culture and food traditions as part of healthy eating.
Eat meals with your child. There are many benefits of eating together as a family.
The online version of Canada's Food guide also provides more resources such as recipes and tips for healthy eating.
Do you have a question about Canada's new Food Guide or any other food and nutrition topic?
Contact a HealthLink BC registered dietitian at 8-1-1 or email a HealthLink BC Dietitian