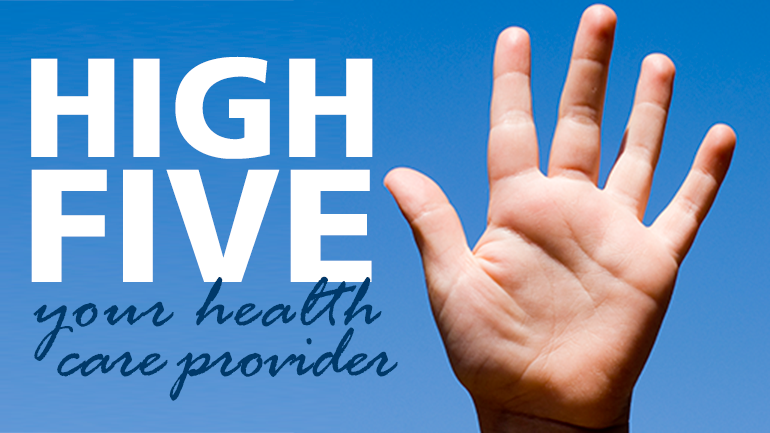 This week's High Fives go out to our amazing people at Abbotsford Regional Hospital and Cancer Centre, Burnaby Hospital, Eagle Ridge Hospital and Langley Memorial Hospital.
Want to send a high five to your health care provider or Fraser Health team member? Leave a comment below or email feedback@fraserhealth.ca.
For Abbotsford Regional Hospital and Cancer Centre
I wanted to share my absolute gratitude for the two nurses who worked closely with me during the birth of my daughter. Their names are Jessie and Jamie, and unfortunately I do not know their last names. They were working the days of February 20th and 21st of 2019 in labour and delivery at Abbotsford Regional Hospital. I was induced at 20 weeks as we found out the day before that our daughter no longer had a heartbeat.
These two women went above and beyond to work closely with our amazing midwives and our support people. They were so caring, patient, understanding, thoughtful and respectful. I will never forget them and the way they treated us, it helped make our story one filled with love and support.
Their standard of care should be an example to every other nurse around them. I work with birthing families and have worked out of almost every hospital in the Lower Mainland and never have I ever seen care quite like theirs. I know that our case was a special circumstance, but I also know that that level of care and respect can and should be given to all birthers.
Thank you.
---
I would like to express my appreciation for the phenomenal staff at the Abbotsford Cancer Clinic. My dad has cancer and he has been a patient at the cancer clinic since late March 2019. We have been so impressed with the nurses in the cancer clinic who assist the oncologists, the nurses who do the peripherally inserted central catheter (PICC) dressing changes, and especially the nurses who administer the chemo treatments. I even had an encounter with one of the senior management of the cancer clinic (I believe she said she was an interim administrator) in Starbucks one day and she also was very caring and helpful – lovely person. Every nurse has been caring and friendly – whoever does the hiring does a terrific job of finding compassionate, quality nurses. I cannot express enough how appreciative I and my parents are for the caring that makes a difficult journey a bit easier.
Today I would especially like to mention one of the chemo nurses – there was something posted in the elevator about nominating staff who go above and beyond and I would like to do that. The last two chemo treatments my dad had were administered by a lovely nurse whose name is Lindsay. My dad is 83, and she was so patient with him – repeating questions when necessary and waiting patiently for him to respond. She took her time talking to him and did not make him feel rushed. She gave careful consideration to everything he told her about how things had been going and how he was feeling and never made him feel like what he said was unimportant and never made him feel rushed – this is refreshing and very important because visits to the family doctor are always so rushed that one can forget to mention important things or ask questions.
When dad's treatment was complete last Friday and Lindsay said he could go home my dad told her that he "commended her for doing her job so well that she made coming for a chemo treatment a pleasant experience", and told her that he could tell she loves her job. That is high praise indeed and I want to thank Lindsay and the other nurses for their compassionate care for my dad. It makes all the difference.
---
For Burnaby Hospital
I want to send my sincere gratitude to the medical team at Burnaby Hospital, specifically the ICU ward. Dr. Ahmed and the team of nurses are absolutely amazing. My brother was placed in isolation in the ICU and his health declined very rapidly. I had no idea what was happening but the nurses did an excellent job of keeping me informed and answered all my endless questions and concerns.
Special thank yous to nurses Lynnsey, Bridget, Arash and Milan. Sorry, those are the only names I remember but I know there were many more that were always keeping an eye on my brother around the clock. My parents and I knew my brother was in good hands and would get the care he so desperately required. Thank you! A million thank yous- I cannot express how grateful my family is to the ICU at Burnaby. He is at home resting and doing so much better. He is getting stronger and more like himself every day. THANK YOU!!!!!!!!
---
For Eagle Ridge Hospital
My husband was at Eagle Ridge Hospital for three nights following a knee replacement surgery. He was on W2A, and we would like to say thank you to all of the nurses who helped him, but especially one nurse in particular. Lori was his nurse on Friday August 9th- I think she started her shift around 3pm. She was AMAZING.
My husband was struggling with the post-surgery pain, and when Lori arrived, she took charge and made things so much better for him. We are so grateful to her for taking such good care of him. And, even though she wasn't his nurse the next day, she still took the time to stop by his room and see how he was doing.
Please pass along our thanks to her. We didn't get to see her when he was discharged on Sunday.
---
For Langley Memorial Hospital
I would like to send a great big thank you to the staff in the Emergency Department at Langley Memorial Hospital. The quality of care and compassion that I experienced was first rate. From the triage nurse, lab staff, unit clerk, patient care coordinator and physicians the level of professionalism really helped put me at ease at a difficult time. Thank you for the seamless care I received.